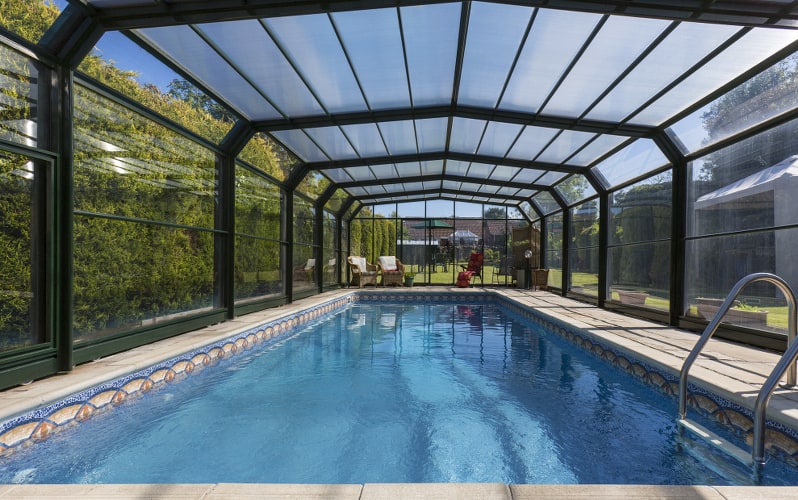 There are a lot of different accessories and extras you can buy for your swimming pool, but perhaps the ultimate is a pool enclosure. There are a lot of reasons to build one of these structures, but the most obvious one is to extend the swimming season. In colder climes, Inground pool enclosures provide a warm environment where you can swim year round. This eliminates one of the main stumbling blocks for many would-be pool owners, which is the fear that they won't get enough use out of their swimming pool to justify the cost.
Of course, a swimming pool enclosure is a pretty big investment itself. However, in many parts of the country, enclosing your pool can more than double the amount of use you get out of it. And while that's probably the only thing that can justify the large price tag of these structures, there are a number of additional benefits as well.
Advantages of an Inground Pool Enclosure
Pool enclosures come in many different forms. There are simple dome structures, greenhouse-like sheds, and full-fledged permanent buildings constructed to the same standards as a home. However, they all offer the same primary benefits (though some obviously work better than others). Here are the main advantages of getting a swimming pool enclosure:
Year Round Swimming. This is the main value of enclosures. It's much easier to swallow the steep price tag when you consider how much swimming time enclosures add to your pool. Not only do they allow you to swim during the winter, but on rainy days as well.
Protection from the Sun. People are becoming increasingly aware of the harmful effects of sun exposure. A pool enclosure can block some or all of the sun's rays – a key benefit for people with children.
Lower Maintenance Costs. Keeping your pool sheltered not only keeps debris out, but slows water evaporation – saving you from having to top your pool off with water all the time. It also insulates your pool from cooling air, helping to keep the water warm and potentially reducing your heating costs.
Increased Safety. While not every enclosure is suitable (or even legal) as the only safety measure you use to prevent children from wandering into your pool, it does present one more barrier.
Of course, swimming pool enclosures have their downsides, too. For one thing, they take up a lot of space. And then there's the cost.
Cost of Professional Installation vs Pool Enclosure Kits
The price of inground pool enclosures varies almost as much as inground pools themselves, and for many of the same reasons. Since they have to be large enough to fully enclose the pool (at a minimum), they have to come in many different sizes – with larger sizes obviously costing more. But even more importantly, these things are built to various standards. Some are basic, others elaborate. As with pools, there's no way to make a meaningful estimate of costs without knowing what features are included.
One thing is for certain – if you get professional installation, you will obviously pay more. A cheaper alternative is to buy a pool enclosure kit that you can assemble yourself. These, too, come in a lot of different varieties. Some are intended only for hardcore do-it-yourselfers, while others can be put together by just about anyone. In many cases, these kits are custom made for your pool and then shipped to you for at-home assembly.
That Just About Covers It
Swimming pool enclosures are a major investment, but if you're already putting tens of thousands of dollars into your new inground pool, they can be well worth it. Ideally, you should plan for your enclosure at the same time you're planning out your inground pool, as it could affect your thinking on pool size and placement. Regardless, you'll want to balance the cost of the enclosure against its ability to hold up against the elements – that is what you're buying it for, after all.
If you're using a contractor to install your enclosure, all the usual advice applies. Get multiple bids, check the contractors' standing with the Better Business Bureau, and talk to former customers. With any home improvement project, the thing that separates success from failure is often whom you hire to do it.