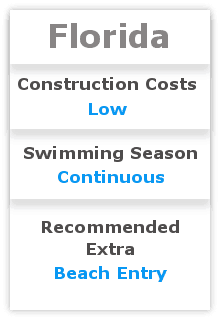 Florida features some of the world's best beaches, but a lot of residents like to take their swimming home with them with inground pools. And why not? There are few places where you can get more use out of your pool than the Sunshine State.
Swimming Season
Year-round, baby. Florida has the highest average daily temperature of any state. The only downside is that pool maintenance can be a bit of a chore – not only because you have to do it all year, but because the subtropical climate is a breeding ground for algae.
Extras
Since you'll be using your pool all year, you might want to spruce it up to prevent boredom from setting in. This could mean employing some creative landscaping to make your pool blend seamlessly into its environment. Alternatively, if you like to entertain, you might be happy with a built-in bar. Or if you can't get enough of the beach experience, you could try a zero entry pool. Of course, none of these things is cheap, but if the pool's going to be a major part of your life, the investment might be worth it.
Installation Costs
Here's more good news about pool ownership in Florida. Construction labor is cheap compared to other states, meaning you will often pay less for inground pool installation. With some of the best pool builders in the country right in-state, we highly recommend hiring a professional – especially if you're planning any of the extra "fancy" features we recommended above.
Permits
The process of applying for a pool permit varies from city to city, and also varies in complexity. In Miami, for example, the process can be complicated and force you to deal with a lot of different offices. This is yet another reason why you should strongly consider a professional pool contractor in Florida. Any company worth its salt will know the local permit requirements inside and out, and can help guide you through it (or even handle the whole thing for you).
Safety Laws
Florida law takes pool safety seriously. Throughout the state, you are required to surround your pool with a fence that is at least four feet high (among other specifications). City laws may place additional requirements on you as well. Make sure you understand all the applicable laws before getting too deep into planning, so you know exactly what equipment and features you need to be safe and legal on Day One of your new pool.