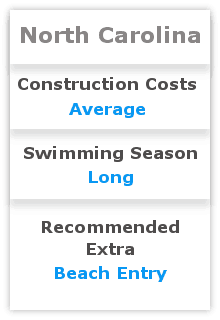 North Carolina features many fine (and underrated) beaches that are just a day trip away for most residents. But with the state's short winters and humid summers, many North Carolinians in places like Charlotte and Raleigh desire a swimming hole that's a little closer to home. That's why inground pools are a popular backyard attraction in the state, offering relief from the grueling summer heat.
Swimming Season
North Carolina offers a generous number of swimming days. You can expect to swim from May through September, perhaps longer depending on the weather and your tolerance for cooler temps.
Extras
With so many 90+ degree days (40 per year in Charlotte, for example), you may want to consider pool features that allow you to stay cool while still enjoying the summer. In addition to stocking up on pool floats, you could get a swimming pool designed with a beach entry or tanning ledge that allows you bask in the sun with the refreshing water lapping at your sides.
Installation Costs
Construction labor is ever so slightly cheaper than the national average in North Carolina. Overall, the cost of installing an inground pool is about average, though there are many factors that can raise or lower the final tally. However, one option that you may not have to lower your cost in North Carolina is self-installation. If your pool is valued at more than $30,000, the law says you must hire a licensed pool contractor to do the work.
Permits
All building permits are issued by the county or city government, and that includes permits for swimming pools. The process can vary from place to place, but you should plan on submitting a blueprint of your pool and the surrounding decking along with your application and fees. If you hire an experienced pool company to install your pool, they should be knowledgeable about the local requirements. However, it's always a good idea to educate yourself so you can verify that everything is in order.
Safety Laws
Like other states, North Carolina requires you to enclose your residential pool with a fence at least four feet high. The fence has to meet other standards as well, so don't assume your existing backyard fence qualifies. Also be sure to check your local county and city laws to see if there are additional laws regarding pool safety. Obviously, this is good information to know before your project gets too far, as it may change your plans.