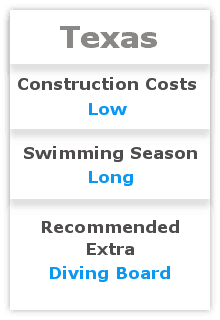 Texas has all the climate diversity you would expect from a state that's larger than most countries. Still, there's not a region of the Lone Star State where a backyard swimming pool isn't a welcome addition to a home. In fact, in San Antonio and other parts, homeowners get to enjoy their inground pools almost year-round.
Swimming Season
How many swimming days you get depends on where you are in Texas. In southern parts of the state – including the cities of Houston and Austin – average high temperatures are no lower than 70 in all but the winter months. In areas farther north – Dallas, for example – the number of days you can use your inground swimming pool are far fewer. Still, overall, Texans get more use out of their pools than residents of most other states.
Extras
Since your pool is going to be open most of the year, it should be nice to look at. Rather than getting a standard, cookie-cutter pool shape, consider a freeform design. You might also want extra features like diving boards, slides, and the like to keep things exciting through the many, many days you will use your pool. You can always add on later, of course, but a pool renovation will cost more than simply including the features in the first place.
Installation Costs
Prices vary, but for the most part, installing an inground swimming pool is cheaper in Texas than other states due to the low cost of labor. We recommend taking advantage of this to hire the best professional pool builder you can afford. If you have room in your budget, also consider getting a more expensive pool liner that will hold up in the Texas sun. Fiberglass pools have become really popular in recent years, and offer the additional benefit of being (relatively) easy to install.
Permits
You'll need a building permit for your new swimming pool, which you can get from your city (or, if you're not in city limits, whatever jurisdiction you fall into). This process may be a little more complicated in Houston and other large cities, and may even involve multiple applications and fees. It's important to get the ball rolling early on this paperwork to make sure there are no nasty surprises. Another good reason to hire a pool company to install your pool is that they can usually guide you through the technical details.
Safety Laws
Speaking of technical details, your local government may have pool safety laws on the books that you must follow when constructing your pool. Most often, this means having a fence of a certain height surrounding your pool to keep out children who might wander in. But don't assume anything – do your homework and find out what the law says. Again, a professional pool contractor should be able to help here.