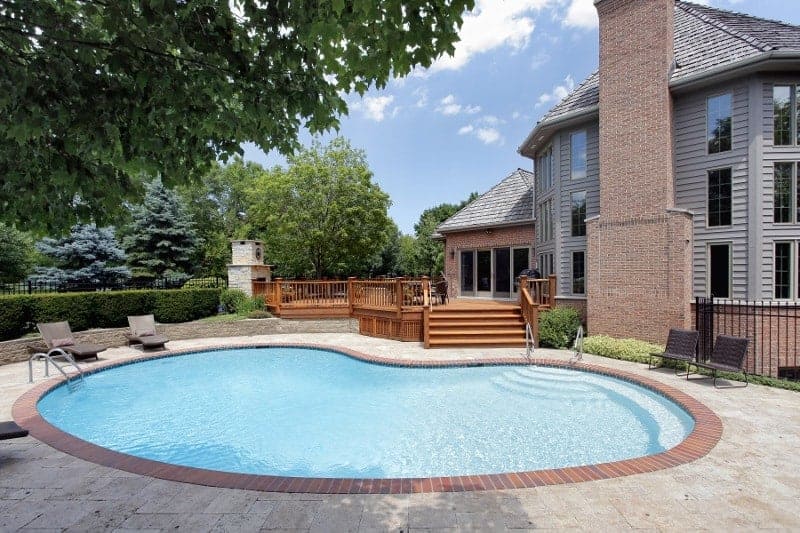 Pool design trends come and go. Then again, some come and stay. Take for instance the iconic kidney shaped swimming pool. This style of pool came to prominence in the 1940s, rose to dominate the residential pool design landscape for decades, and remains popular today.
Granted, kidney shaped pools aren't quite as commonplace as they used to be. Still, we can safely predict that they'll never completely disappear. Why? Because they have so much to offer.
Naturalistic Appeal
With it's sharp corners and symmetrical form, a standard rectangular swimming pool bears little resemblance to any natural body of water. In contrast, the rounded corners and slight bend of a kidney pool call to mind an inviting little swimming hole. Topping it off, the indentation serves as a perfect spot for plants and other natural landscaping elements.
At the same time, a kidney shaped swimming pool is simpler and more space-efficient than other naturalistic designs, including those sprawling lagoon-style pools. The curve of these pools can also open up more placement options, allowing the pool to bend around the corner of a house or deck for instance. All in all, if you're looking for a naturalistic design that fits in a smaller yard, a kidney shaped pool deserves strong consideration.
Retro Cachet
Kidney pools were at their most fashionable in the 50s and 60s, at a time when residential swimming pools themselves were becoming mainstream. For many, a kidney shaped pool recalls those earlier days when private pools were more novel and glamorous. Others just find the retro look preferable to more modern designs.
Of course, the retro home design trend isn't limited to swimming pools. Mid-Century Modern is a popular architecture style that hearkens back to the 50s and 60s. Naturally, kidney shaped pools fit right in with this type of home.
Functional Design
Another reason kidney pools have endured is that the design simply works. The bend in a kidney shaped pool serves as a clear division between shallow and deep ends. However, because the curve is slight, a kidney pool still allows for lap swimming, diving, and other activities enjoyed in rectangular pools.
As mentioned, the indentation or "bump" on the pool deck is an obvious place to put landscaping or other decorative touches. On the practical side, it can also be a place for seating, a pool ladder, an anchored umbrella, or even an inground spa. Whatever you put in this spot will be easily accessible, and a focal point of your poolscape.
Getting back to the titular question: What's so great about kidney shaped pools? As the paragraphs above show, the answer is plenty. That said, they're not great for everyone, or in every situation.
Some may prefer a more modern pool design to the old-school charm of a kidney pool. But it's not just about personal preference. In many cases the style of the home or the particulars of the backyard may favor a different shape.
There's also a significant downside when it comes to everyday use, which is that the curved form of a kidney pool is awkward for pool covers. In fact, finding the right fit for a solar or winter pool cover is maybe the most common issue mentioned by owners of kidney shaped pools.
In other words, there are trade-offs with kidney pools, as there are with every other type of swimming pool. But all in all, it's not hard to understand why they became so popular in the 50s. Nor will it be surprising if they're still around many years from now.