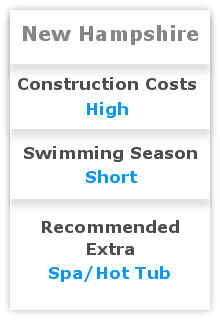 New Hampshire features a lot of attractive beach destinations in the summertime, and given the state's small size, they're easily accessible to most residents. However, the ultimate accessible swimming destination is your own backyard, and that's why many residents of New Hampshire build inground pools.
Swimming Season
New Hampshire has one of the shorter swimming seasons, just like other northern states. However, the weather can be very humid in some areas, making the cool water of an inground swimming pool a welcome luxury. As long as you have a pool heater, you should be able to swim from Memorial Day to Labor Day – perhaps longer.
Extras
All inground pools require a winter pool cover, but in New Hampshire, you should make sure you have a good one that can withstand the snow and cold. If you have room in your budget, getting a pool-and-spa combo makes a lot of sense. When the weather starts to get nippy, you can still relax in the warmth of the spa. Having both installed at the same time would likely save you a bundle over having the spa added later.
Installation Costs
Construction labor is a little more expensive in New Hampshire than the average state, and that means you generally have to pay a little more for inground pool installation. Concrete pools are the most labor-intensive types of pools to install, while fiberglass are the least.
Permits
Inground pool permits fall under the purview of city governments in New Hampshire. In most cases, you'll need to submit an application with a one-time fee. If you hire an experienced pool builder from your area, they should be able to guide you through the process.
Safety Laws
Pool safety is also left to the cities in New Hampshire, though many municipalities have standardized on the same rules you will find elsewhere in the country.