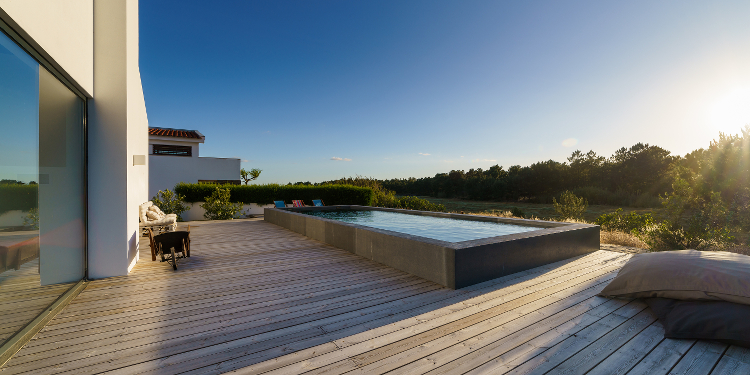 If you've spent any time weighing inground vs. above ground swimming pools, you know that each comes with its own strengths and weaknesses. Inground pools are attractive but expensive. Above ground pools are cheaper but don't blend in with their surroundings.
Luckily, these aren't the only two options. For many homeowners, a semi inground pool offers a perfect compromise between the two, being both affordable and easy to integrate into the landscape.
What is a Semi Inground Pool?
As the name implies, a semi inground pool is a pool that is partially buried in the ground, as opposed to inground pool that's in the ground and an above ground pool that's on the ground. Depending on the exact setup, this type of pool may also be referred to as a semi above ground pool, a raised pool, or a deck pool (more on that shortly).
Since the ground doesn't have to be level to incorporate a semi inground pool, it can be installed in places where an inground or above ground pool would not work. And with their lower profile, they don't obstruct your yard the way above ground pools do. In fact, at first glance, they can be difficult to distinguish from inground pools.
Some above ground pool companies offer pools that can be installed semi inground (or even inground, for that matter). However, semi inground pools can also be custom made with the same sorts of materials you would use for an inground pool. Which type of installation you're talking about will determine how much the semi inground pool costs (along with many other factors).
Ideas and Options
The perfect semi inground swimming pool doesn't happen on its own. It takes a little ingenuity and planning to hone in on the right design. Here are a few semi inground pool ideas to get you started.
1. Wrap a Deck Around It
Some people refer to semi inground pools as deck pools because they're so often installed with an attached or wraparound deck. This design hides the protruding sides of the pool and makes it easier to get in and out – giving it many of the benefits of an inground pool. Of course, a deck also provides a nice place to lounge around the pool.
If you enjoy spending time on your home's existing deck, imagine barbecuing or having a drink next to a sparkling swimming pool. Of course, you can also opt for a deck with an above ground pool. However, the lower profile of a semi inground pool gives you more options.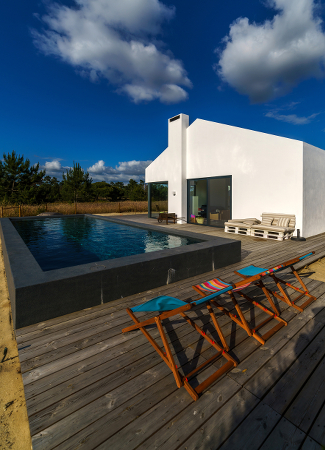 2. Incorporate it into Your Yard's Terrain
Semi inground pools are a flexible style of pool because they can adapt to uneven ground and even steep hills. Unlike inground and above ground pools, they don't need a large flat surface. You can simply build them into a slope as much as you need to (okay, "simply" might not be appropriate, as installation can be complex).
Not only is this convenient, but it can produce a striking result – a pool that's neither hidden nor obstructive, but a natural-looking part of the environment. It's no exaggeration to say that a well-designed semi inground pool can rival the best inground pools when it comes to aesthetics.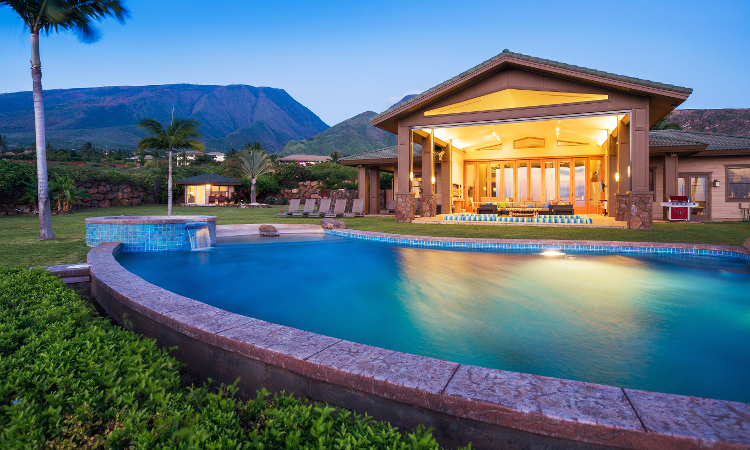 3. Use Creative Landscaping to Dress it Up
Semi inground pools can still look amazing even if they're not hidden in a wraparound deck. Because of their low profile, they lend themselves nicely to a lot of different landscaping options.
You can complement the short pool walls with plants, flowers, or a paved walkway. Of course, the outer appearance of the walls is also important.
If you're not keen on the look of the walls, you can often hide them behind shrubbery. Or the pool could simply be oriented so the walls aren't as visible.
You can surround the pool with a rock garden, add a patio, or incorporate it into just about any other landscaping technique.
Ideally, you should have your landscaping and decorating plans in place before you build the pool. That way, everything comes together in one beautiful package. Trying to change your pool's appearance after it's installed could leave you second-guessing yourself.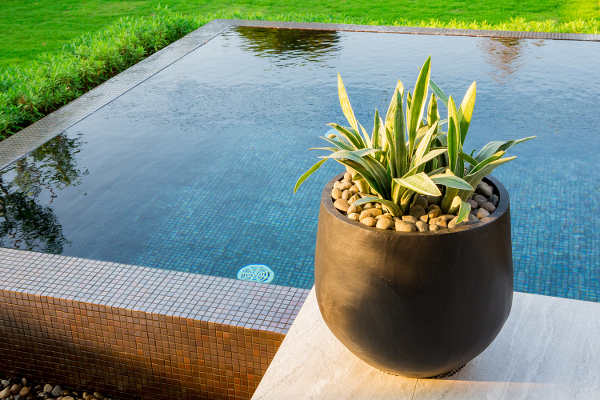 4. Make the Most of the Scenery
Finally, with a semi inground design, you have exceptional control over what people see while inside the pool. That's because you can choose how high above ground the pool walls extend. A higher pool offers a better view of the surroundings.
If you have a sloped yard with a great view, you can even mimic an infinity edge. For that matter, you could build an actual infinity pool – if you have the budget for it.
Bottom line, consider the view when deciding on semi inground pool design and placement.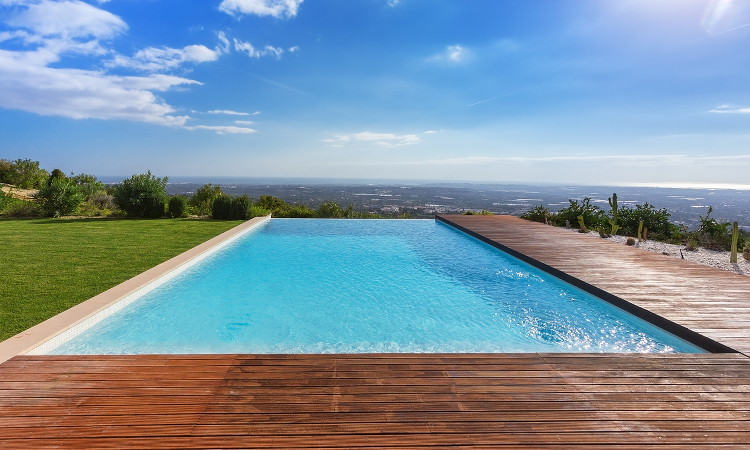 Building a Semi Inground Pool
Because semi inground pools come in so many forms, it hard to make accurate generalizations about them. However, you can say one thing for certain: installing a semi inground pool is more difficult than installing an above ground pool. That's simply because of the excavation involved.
It's tempting to say that they're easier to install than an inground pool. However, it really depends on how complex and upscale the semi inground pool project is. Building a pool into a slope could be a bigger design challenge than building a standard inground pool on flat ground.
Unless the project is very simple, or you have some serious skills, professional installation is recommended for a semi inground pool. The best way to pick the right pool company for the job is to get multiple candidates, compare the bids, and weigh the costs against the quality of their past work.
Look specifically for a contractor with experience installing semi inground pools. For as you can see, this type of pool comes with a unique set of opportunities and complications.