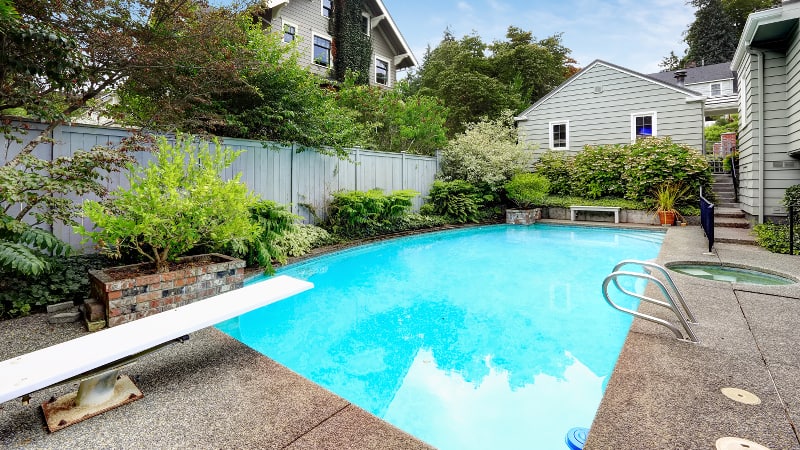 It's a nice place to visit, but I wouldn't want to live there. That old cliche is a good way to describe how a lot of people feel about homes with backyard pools. While they're the envy of everyone on hot summer days, swimming pools bring maintenance, cost and liability issues that a lot of people simply don't want to deal with on a regular basis. As a result, a swimming pool isn't the sort of investment that tends to pay for itself, or the type of home improvement that makes sense if you're putting your house on the market anytime soon.
One rule of thumb is that you get back about 50% of your pool investment in increased home value. However, that's far from a universal standard. The truth is, there's no simple formula for valuing a pool – which is kind of unfortunate, as it's a key factor in deciding whether you can afford one. Here are some of the variables at play.
1. Type and Condition of the Pool
First off, above ground pools add little or no value to a home. In fact, according to one report, they decrease the value by about two percent. If you own an above ground pool, you may be required to remove it as a condition of sale.
Inground swimming pools are more likely to add value, but how much value depends on a lot of things. Pools with vinyl liners, which have to be replaced periodically, usually add less than gunite or fiberglass pools. Older, outdated, and/or poorly maintained pools are also less likely to add much, if any, value (but then, you knew that).
2. Climate
It goes without saying that pools are most popular in warm weather states, where you can swim six or more months out of the year. In fact, in some areas, a swimming pool is a feature prospective home buyers look for – or even expect. Conversely, prospective home buyers are less interested in owning a pool if they can only only keep it open for a few short months.
3. Your Neighborhood
When valuing your home, appraisers look for comparable houses in the area. If there are few (or no) other examples of homes with a pool, appraisers are more likely to discount or undervalue it. Prospective buyers may also be reluctant to get a home that seems like an oddball for the neighborhood.
Overall home values in the area are also important. If nearby houses are modestly priced, then adding an expensive freeform pool and attached spa won't necessarily benefit you. On the other hand, if homes in your neighborhood are higher priced, then adding that fancy pool could work to your advantage.
The Smart Money
If you're just looking for ways to increase the resale value of your home and make it more attractive to potential buyers, there are probably better options than installing a swimming pool. Updating your kitchen, brightening things up with new paint, and enhancing your curbside appeal with landscaping are all more cost effective. This is especially true when you add up the ongoing maintenance costs of owning a pool.
In short, while installing an inground swimming pool is very likely to increase your home's value at least somewhat, it shouldn't be the primary factor in deciding whether or not to get one. Get a pool only if it fits with your lifestyle and you're planning to stay in your home for the foreseeable future. If a pool is really right for you, the investment will pay for itself in the heaps of fun you get out of it.