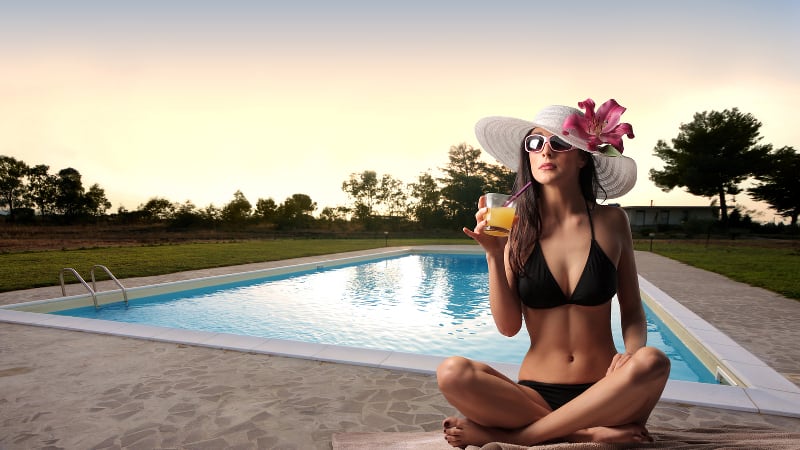 When the weather starts to turn warm, the thoughts of many people turn to swimming pools. The summer months are by far the busiest time for swimming pool contractors. Which leads to an obvious question – can you get a better deal by waiting? Logically, prices on inground pools should be lower during the offseason when there's less demand for new pool installations and more competition between pool contractors.
In fact, this is often the case. However, there are plenty of reasons why waiting to install a swimming pool during the colder months of the year might not work out like you planned.
The Advantages of Installing a Pool in the Offseason
When spring rolls around, many homeowners start to plan home renovation projects. For those who have decided to finally act on their dream of owning a swimming pool, those plans naturally include figuring out the cost of a new inground pool by contacting local pool contractors. Demand for pool installations continues to soar into the summer, when contractors are at their busiest.
Contrast this with fall and winter, the low points for pool installation. Pool contractors usually have to reduce their workforce during this time of year, as the competition for scarce pool projects becomes fierce. High competition often means contractors are willing to lower their prices to try to win contracts. You can often get the best deals on pool equipment, too, as suppliers try to clear out their inventory.
There are other advantages to waiting until the offseason as well. With a more relaxed schedule, builders may be more careful with their work, rather than rushing to get things done so they can move on to the next project. You may also have more time to spend supervising the project – an activity that you might enjoy during the cold months as you anticipate having your pool ready for the first day of summer.
On the Other Hand
There are good reasons not to wait, as well. For one thing, inground pool prices might not go down as much as you expect. Materials could increase in cost due to inflation, and pool contractors might not be as desperate for business as you might imagine. Some builders may simply close up shop or drastically scale down their operations in the offseason, in which case they might consider offseason pool installations an inconvenience. Others may simply refuse to lower prices on principle.
There are downsides to installing a pool in the offseason, too. For example, during wintertime frozen ground can make excavation difficult. If you live in a place that has cold winters, you'll have to talk to prospective contractors to make sure this isn't a problem.
Finally, perhaps the biggest problem with waiting to install your pool is… you have to wait. If having your own pool has been a dream of yours for a long time, then suffering through the offseason just to save a few bucks probably doesn't sound like a lot of fun. While waiting to install your pool might be the logical choice, it also means less time swimming and frolicking in your new pool.