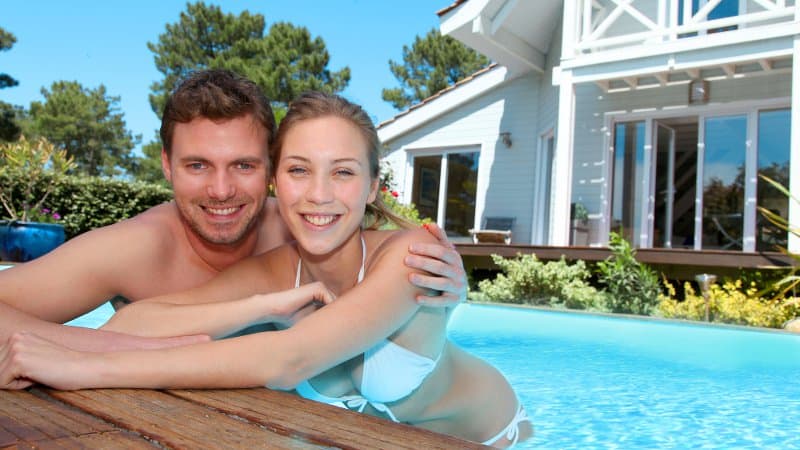 Building a swimming pool is anything but simple. Some people go into the process with a strong idea of what they want and an eagerness to tackle every decision, big and small. Others just want the bottom line: What should I get?
Unfortunately, there's no easy answer to that question. Any pool builder who tries to tell you differently is probably trying to sell you on their own preferences or specialties. The truth is, a successful pool design hinges on budget, space, and many other factors that vary significantly from person to person.
That's bad news if you're a bottom-line kind of person. However, while no one can tell you what the best type of inground pool is, there are some guidelines that can help you decide on the best type of pool for you. Here are four common scenarios, each with some ideas on pool shape, size, features, and materials.
Family on a Budget
The ideal family pool is large and versatile, allowing it to accommodate people of different ages, often at the same time. The classic 16′ x 32′ rectangular pool fills the bill here. However, a similarly sized kidney shaped, oval, or L-shaped pool could also do the job.
Of course, the trouble with big pools is that they cost big money. That's true for concrete and fiberglass pools, anyway. For the best value, consider a vinyl liner pool, or even an above ground pool with a deck.
Whatever you choose, set aside part of your budget for upgraded safety features. Depending on the ages and safety needs of your family members, this could include an interior fence, a pool alarm, or an automatic pool cover.
Couple (No Kids)
For many couples, a perfect day by the pool includes sunbathing, reading, and taking a dip every once in awhile to cool off. In this case, it makes little sense to invest money and space in a large pool when a smaller pool will serve just as well. Any extra room in the budget could be used for a larger pool deck for entertaining, or extra features like a poolside bar or outdoor kitchen.
What type of material works best for this type of pool? That depends on your budget. However, fiberglass could be a good choice, as it's high-quality and can be quickly installed. As for shape, consider a square or round pool.
Serious Swimmers
Hey, some people like to actually swim in their pools. Go figure.
People who want a pool for exercise often choose a traditional rectangular pool, which can be used for swimming laps as well as other activities. However, to really facilitate swimming workouts, the best type of pool is an elongated version of the rectangular pool known as a lap pool. Lap pools are typically made of concrete, but fiberglass pool shells also come in this shape.
The biggest problem with lap pools is that they take up a lot of space. For a more compact option, consider a swim spa or a smaller pool outfitted with swim jets.
Luxury Seekers
So, what type of pool is the best when you have no restrictions? Even here – or perhaps especially here – it's a matter of opinion. That said, it's safe to say that most people's dream pool would be large, constructed of premium materials, and chockfull of custom features.
If you have a great view in your backyard, then an infinity edge pool is hard to beat. Otherwise, you could create the perfect backyard stay-cation with a freeform pool with waterfall and grotto. Or, if your tastes are more minimalist, you could go with a classy grass-surround pool.
Those are just three options (albeit three of the most popular among luxury pool owners). If you're really looking for the best pool regardless of price, you'll simply have to decide for yourself because the possibilities are effectively endless. If you can dream it, and you can afford it, they can build it.