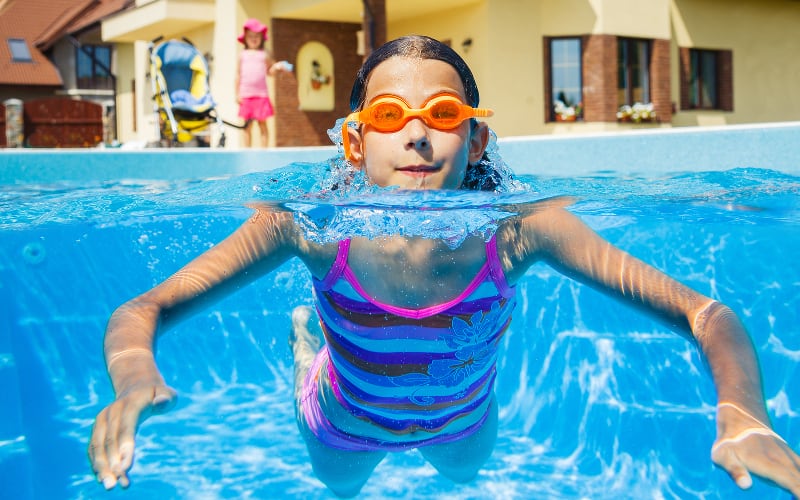 One of the chief advantages of an inground pool is the ability to customize it to fit your vision. Of course, that raises the question, what exactly is your vision? Before taking the plunge with a home renovation you will have to live with for years, you should spend some time exploring as many inground pool designs as possible. It won't do you any good to come up with the perfect idea after the pool contractor has handed you the keys to your new pool.
Inground Pool Designs – Things to Consider
As with other home improvement projects, building an inground pool is all about combining form and function – while also working within the space and budget limitations you may have. Designing a swimming pool is an art, and there's no way to summarize everything that goes into it in a few words. However, here are some of the major elements of pool design you'll have to consider:
Size. The first thing that comes to mind when pondering a new pool is size. How much space do you have to work with, and how much of that space should be devoted to the pool? In general, people tend to oversize their pools. While a new pool will take center stage in your life initially, eventually the novelty will wear off and you're going to be doing other things in your backyard. Consider a smaller inground pool to keep things from getting cramped.
Shape. The shape of your pool should be based on the landscape of your backyard and the goals you have in mind for your pool. If it's for exercise, consider a long, rectangular lap pool. If it's for lounging, think about an artistic freeform pool design.
Placement. Most inground pools occupy the middle of the backyard. However, there are a lot of other possibilities, many of which can save space.
Materials. Vinyl, fiberglass, and gunite pools all offer unique looks, and come with certain limitations. Beyond that, there are also many options for paving and landscaping around the pool.
Budget. Obviously, the amount of money you have to spend will be a limiting factor in your design. Coming up with the right design on a budget is a matter of balancing different priorities.
Finding Inground Pool Design Ideas
Of course, all of this is high level stuff. If you're going to find the perfect pool, you're going to have to dig really deep. You can find plenty of inspiration looking at inground pool pictures on the internet. You may also want to invest in some pool design books. Given how much money you're spending on the pool, spending some extra time on research makes a lot of sense.
Don't neglect to get opinions from the pros, too. If you've selected a knowledgeable and experienced pool contractor to build your pool, he or she may have some great ideas. While you should be thinking on your own about inground pool designs long before you select a contractor, it never hurts to keep an open mind – and it could pay off in the perfect idea.