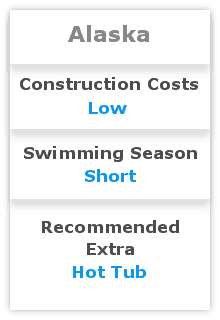 On the list of things to do outdoors in Alaska, swimming is, well, way down on the list. We won't sugarcoat it – it's difficult to justify the huge expense of installing your own inground pool in a state where there are so few warm and sunny days.
But of course difficult is not the same thing as impossible. With enough heating, you can keep a pool open in almost any weather. An indoor pool – while it might be expensive to install – is also an option for those who want to make sure they get the maximum use out of their pool.
Swimming Season
Alaska is a huge state with significant climate differences between the coast and the interior. Still, no matter where you go, the summers are cool (at least by the standards of the rest of the country). For example, in Anchorage, where most of the state's population resides, summer daytime temps only get into the 60s on average. Most people would not consider that swimming weather.
Extras
Swimming pools may not be big in Alaska, but hot tubs certainly are. There's no sensation quite like slipping into 101-degree water on a chilly day. If you're installing an outdoor pool, it makes sense to also put in a hot tub that can potentially share its heating and circulation systems. A hot tub/spa can be completely separate from the pool, or closely integrated with it.
For that matter, you might want to consider a smaller pool design that's somewhere between a pool and a hot tub. Smaller pools are more economical to heat, and if you install water jets, you can still swim in them. If you decide to go this route, a couple of popular designs to look out for include plunge pools (small square pools) and swim spas (exercise spas that have water jets and can be installed above ground or inground).
Installation Costs
Construction labor costs are low in Alaska, so you will generally pay less for projects such as pool installation. That said, due to the cooler climate, you may want/need extra features that drive your costs higher than the typical outdoor pool. Things like heating units, automatic pool covers, and wind barriers can have a big impact on the final price.
If you're planning an indoor swimming pool, that's another story entirely. Residential indoor pools are much more expensive than their outdoor counterparts for a variety of reasons.
One way to reduce costs is to take on some of the work yourself. This might be especially tempting if the contractor options are limited in your area. Just make sure you're capable of performing the work and securing the proper permits for it.
Permits
In Alaska, as with everywhere else in the country, a building permit is required to install a swimming pool. Permits are handled at the local level, so check with your city, town, and/or borough to apply (if you live in Anchorage, you can start by visiting this page). An experienced general contractor should be able to guide you through the process.
Safety Laws
Like building permits, safety laws are a local matter. In most places in the United States, there's a requirement to have your pool completely enclosed with a safety fence or other barrier. Long before you begin installation, you should know the requirements in your area – or make sure your pool contractor is on the case.