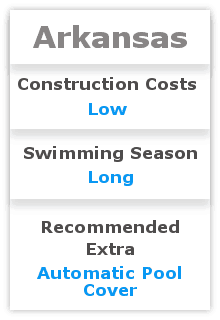 Arkansas gets a wide range of weather – hot, cold, and perhaps most notably, stormy – but overall, it's a great place to own a swimming pool. Many Arkansas residents take advantage of the warm climate and affordable construction prices to install inground pools right in their backyards.
Swimming Season
In most places in Arkansas, the temperature starts to rise in early spring and stays relatively high all the way through fall. For example, the average high temperature for Little Rock in April is 73. It's a pretty good bet that sometime during the month you'll be able to open the pool and start enjoying the warm days.
Extras
One practical item you may want to consider is an automatic pool cover. With all the severe weather Arkansas gets, you can end up with a lot of debris in your pool if you don't keep it topped. An automatic cover – or at least one with an easy-to-use reel – can keep your pool clean without being too much of a hassle.
Installation Costs
Construction costs are low in Arkansas compared to other states, so you might be pleasantly surprised by how much it costs to install a swimming pool (especially if you've done research and seen the national average). You can save even more by doing some of the work yourself, but for the major pieces, we recommend a licensed pool contractor.
Permits
Swimming pool permits are handled at the city level, so check with your local municipality to see what's required. In most cases, you will have to fill out an application and pay a fee. Make sure to get the paperwork done ahead of time.
Safety Laws
At this writing, there are no statewide laws on residential swimming pool safety. However, that doesn't mean there aren't laws in your local city or town. In many parts of the country, additional safeguards like a fence are required, so be sure you understand what your local laws are before starting your project.