There's no shortage of things to do in Ohio in the summer – camping, fishing, festivals, not to mention all the entertainments of major urban areas like Cincinnati. Still, some Ohioans feel the need to add to the summertime fun with inground pools planted right in their own backyards.
Swimming Season
Like a lot of other Midwestern states, Ohio offers a limited number of months suitable for swimming. In Cleveland, for example, temperatures often aren't reliably in the 70s until June, and dip back down in September. Of course, with a pool heater and/or a tolerance for cool temps, you can extend your season by a few days or weeks.
Extras
Winters in Ohio can be harsh, so make sure you have a sturdy winter pool cover. If you want to make maximum use of the space, you can even get a platform pool cover that you can walk on. It'll cost you, though.
Installation Costs
Speaking of costs, you'll generally pay a little more than the national average for an inground pool in Ohio due to slightly elevated labor costs. However, there are many factors that go into determining the price of a swimming pool, and many ways to save money. The ultimate way to shave dollars off the cost of your pool is to do some of the work yourself. Just don't bite off more than you can chew – some things should be left to the professionals.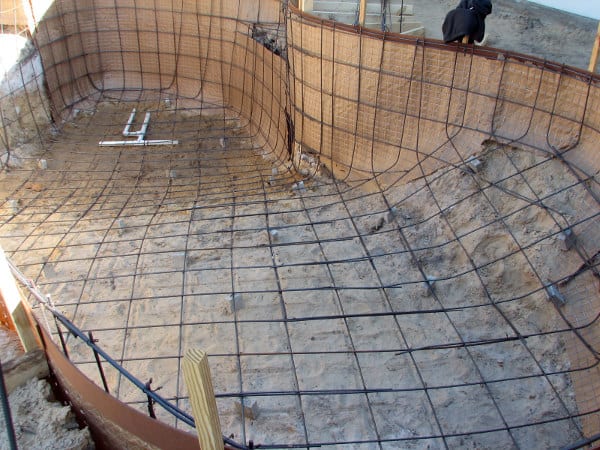 Permits
The process of getting a swimming pool permit differs from place to place in Ohio. In all likelihood, you'll have to fill out a form with a one-time fee, and then wait a certain period of time for the permit to be granted. You may also have to attach a blueprint of your pool, or at least provide specifications. There may be additional permits required as well, particularly if you live in an urban area. Check with whatever office handles building permits in your area – and be sure to set aside time in your project schedule for all the paperwork to go through.
Safety Laws
Whether you live in Columbus or a small town, there are likely residential pool safety laws that you will be required to follow as a pool owner – and some of them may entail changes or additions to your construction plans. For example, most cities – not just in Ohio, but throughout the country – require you to enclose your swimming pool with a fence of a certain height. There may also be rules about pool placement, or just about any other aspect of pool installation. One big advantage of hiring a professional pool contractor is that they usually know these laws inside and out.