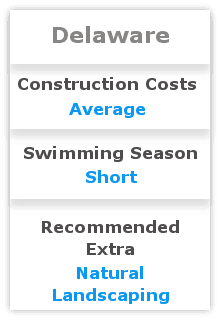 It may be small in terms of geographic area, but Delaware is one of the most densely populated states in the country. Small wonder that many folks in Wilmington and elsewhere choose to carve out their own little backyard retreats with inground pools. Whether it's made of fiberglass, vinyl, or concrete, a residential swimming pool offers a perfect family "staycation" during the warm summer months.
Swimming Season
Like other states in the northeast, Delaware has a relatively short window for swimming. Depending on your tolerance for chilly air temps and your willingness to crank up the pool heater, you're looking at around four or five months of swimming each year.
Extras
An efficient pool heater is always a good investment in colder states, to maximize use of your pool without driving your energy costs too high. But for a true "extra" (as in optional), let's go with some natural pool landscaping. A rock waterfall in particular makes for a stunning set piece that looks and sounds great. Not only do natural features like waterfalls turn a backyard pool into a sort of outdoor adventure, but also transform it an attractive piece of scenery during the months when it's not in use.
Installation Costs
Labor costs are around the national average in Delaware, so it follows that the overall cost of your pool will also be average. It's possible to save significant money by doing some of the work yourself, or hiring your own subcontractors. Study long and hard before you attempt this, though. Finding reliable contractors – and scheduling them at the right time – is more than most people can handle, at least as a part-time endeavor.
Permits
Check with your county to determine what permits are required to install a pool in Delaware. One advantage of having a general contractor is that they can leverage their expertise to make sure all applications get delivered on time and with complete information. If you decide to manage the project yourself, be sure to include permits in your planning (and the associated fees in your budget).
Safety Laws
As with permits, pool safety laws in Delaware are left to local levels of government. The most common safety measure required by local governments is a safety fence with a lockable gate. Other possible requirements include pool alarms and pool covers. Regardless of what the law dictates, you may want to budget for additional safety features for your own peace of mind.