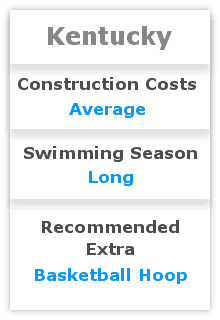 A lot of people outside of Kentucky view it as a southern state with the drippy hot weather common to that region. In fact, climate of the Bluegrass State is a lot more diverse than that, with some seriously chilly temps during the winter. But even if the weather isn't warm year round, many residents of Louisville, Lexington, and other parts of the state find that an inground swimming pool is still a very solid investment.
Swimming Season
As mentioned, Kentucky gets its share of both warm and cold weather (the record high in the state is 114 degrees, while the record low is -37 degrees). However, compared to most states, Kentucky's swimming season is lengthy. With a pool heater, you can easily keep your pool open for half the year. Of course, you can also skip the heater and keep your pool open for a shorter period, saving big on maintenance costs.
Extras
A solar heating setup makes sense in a state like Kentucky, where a few extra degrees of water temp are often all you need. If you're planning to keep your pool open longer, you might also want to consider additional "fun" features to maintain your interest. Slides, diving boards, and swim-up bars are all prime candidates. But for hoops-happy Kentucky, we can hardly think of anything more appropriate than a basketball hoop.
Installation Costs
Construction costs in Kentucky are middle of the road compared to the national average. It's highly recommended to hire an experienced professional if you can afford it. In some locales, it may even be required by law. That said, if the law in your area permits it – and if you have the ability – you can save a lot of money by doing some of the work yourself and/or serving as your own general contractor. Otherwise, budget your pool around the features you can afford to have professionally installed. In particular, think long and hard about what sort of liner to get. A fiberglass pool, while initially costly, could offer some long-term savings in a humid climate due to its nonporous, algae-resistant surface.
Permits
Generally speaking, residential pool permits in Kentucky are handled at the local level (the exception would be if you're building a residential pool that's somehow associated with a commercial property). Check with your county or city government to find out what the requirements are in your area. Common requirements include submission of a blueprint prior to beginning construction and one or more inspections of wiring, plumbing, and/or safety equipment. An experienced pool contractor should be able to help you keep things in order.
Safety Laws
Pool safety laws in Kentucky also fall under the purview of local government. The most common requirement is an enclosure to prevent children from wandering into the pool area. Even if it's not the law in your area, a pool fence with a self-latching gate is a good idea if you've got neighbors close by. You may also want to consider a pool alarm and/or safety cover. Again, be sure to check your local regulations (or verify with your contractor) to make sure you're in full compliance.