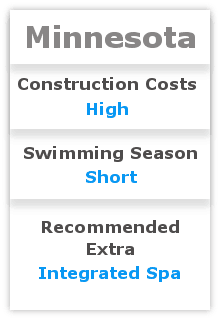 Minnesota is known as the Land of 10,000 Lakes, but it also has its share of swimming pools. While Minnesotans have to suffer through some of the nation's harshest winters, the summers can be warm and humid in many parts of the state – making inground pools a nice luxury to have in your backyard.
Swimming Season
A lot depends on which part of this tall state you live in, as the northern part is significantly cooler than the south. In Minneapolis and Saint Paul (southeast), high temperatures don't reliably reach the 70s until June, and they disappear in September. So no matter where you live in Minnesota, you're looking at an abbreviated swimming season. However, that's not all bad – fewer swimming days means less maintenance.
Extras
If you want to increase your swimming time, install a good electric pool heater to keep water temps comfortable. But if you're looking for a fun recommendation, consider an integrated spa or hot tub. You'll be able to enjoy it even after you have to close your swimming pool, and having it installed at the same time will save you money and make it blend better.
Installation Costs
You might pay a little more for an inground pool in Minnesota due to higher-than-average construction costs. This is especially true of gunite pools, which can take a long time to install. To lower the price, you could do some of the work yourself. Even if you just do the excavation, you could save yourself a lot of cash.
Permits
Swimming pool permits are handled by local governments in Minnesota. To figure out what's required, check with your city or county government. Fortunately, local governments in Minnesota tend to be very good about putting documents online, so a web search will get you started. You'll likely need to submit your pool plan with a one-time fee. However, the process can vary from place to place, so make sure you do your due diligence. If you hire a pool company to build your pool, they should be able to help you out here.
Safety Laws
Residential pool safety is another area that falls to city and county government in Minnesota. For your new inground pool to be in compliance with local code, you may need to have a fence surrounding it. Again, be sure to do your own research well ahead of time to make sure the installation includes everything you need to comply with the law.