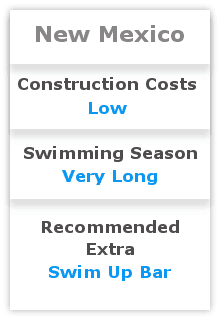 Mention New Mexico and swimming pools, and a lot of people think of the hit TV show Breaking Bad. Set in sunny Albuquerque, the show uses a backyard pool as the setting for some of its most memorable scenes. In fact, one of the characters famously takes an impromptu dip in one of show's key moments (fans know what we're talking about).
But you don't have to be a criminal mastermind like Walter White to understand the benefits of owning an inground pool in one of the sunniest states in the union. Getting enough use out of your pool isn't an issue in places like Las Cruces, Santa Fe, Albuquerque, and other warm and arid parts of the state.
Swimming Season
In most of the state's population centers, the weather is almost ideal for pool ownership. Summers are blazing hot, with triple-digit temps not uncommon. Cloudy days are infrequent. Winters tend to be short and mild. Add it all up, and you have very good conditions for pool ownership.
Extras
New Mexico is one of the top spots for solar energy, and swimming pools present some of the most effective applications of solar energy. Sounds like a perfect match, right?
Tapping into the benefits of solar doesn't necessarily mean buying expensive equipment or fooling around with your own DIY system (although if that's what you want, more "power" to you). It could be as simple as using a solar pool cover, which slows water evaporation and traps heat from the sun to keep your pool's water comfortable to swim in. If you do want something more elaborate, you could also consider a solar heater or even a solar pool pump (though the latter may not be cost effective).
If you're looking for something sexier that will really help your new pool stand out, consider features such as tanning ledges and attached spas. If you plan to entertain a lot, one excellent option is a swim-up bar, where friends can cool off and enjoy a drink on those scorching New Mexico days.
Installation Costs
Compared to other states, New Mexico offers favorable construction labor costs. Of course, labor is only one of the factors that go into the final cost of a swimming pool, along with the size of the pool, type of liner (vinyl, fiberglass, gunite), and perhaps most importantly, pricing differences between different contractors. Of course, there are many options for lowering the cost of pool installation and maintenance.
Permits
Regardless of where you live in New Mexico, you'll need to obtain building permits to legally install a residential swimming pool. The requirements vary by county, but often include submitting a blueprint and passing various inspections for plumbing, electrical, etc. A general contractor with experience in the area should know exactly what's required. However, it's always advisable to learn as much as you can about the process.
Safety Laws
Another important part of pool construction is making sure you comply with all local safety laws. Again, the exact requirements differ by locale. The most common requirement for residential pools is to have a fence with a self-latching gate to prevent children from wandering in. Cities may have additional requirements as well, due to the increased potential for accidents in heavily populated areas.