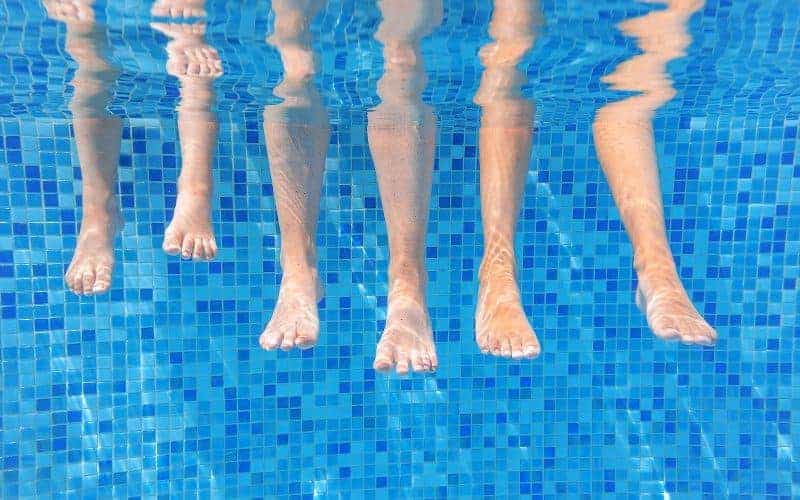 Of all the things that can go wrong with a swimming pool, leaks are the most insidious. They can be hard to detect and even harder to pinpoint. And if not repaired, they can undermine your pool's structure, causing serious damage.
That said, as a current or future pool owner, you shouldn't lose too much sleep worrying about potential pool leaks. Most of them are minor and inexpensive to fix. While calling in a pool leak specialist is never a bad idea, it's not always necessary – at least not until you've taken a crack at solving the problem yourself.
Leak Detection
Swimming pools are constantly losing water – mostly through evaporation, but also from splashing and other causes. Sometimes it's hard to know whether a decrease in water level is from evaporation or a leak.
Fortunately, there's the "bucket test." This tried-and-true method of detecting a pool leak involves setting a bucket full of water in or next to the pool for 24 hours, then comparing the water level in each. If the water level in the pool has dropped more than the water level in the bucket, you have a bonafide pool leak.
Once you're sure you have a leak, you can call in a professional to pinpoint the source or put on your detective hat and look for it yourself. A pool leak expert can usually zero in on the problem within an hour or two, at a cost of around $200-400. The question is whether spending the money is worth the time it would take you to find the leak yourself – keeping in mind that it will likely take you longer, with no guarantee of success.
That said, before making a call, you might want to at least spend 30 minutes or so checking around exposed pool equipment and plumbing. The problem could be obvious and easy to fix on your own. Even if you don't locate the problem yourself, it's not necessarily wasted time – you can pass along your findings to a pool leak professional, giving them a headstart in their search.
Leak Repair
Swimming pool leaks come in many different forms, making it hard to generalize about the extent (and cost) of repairs. The scope of the problem depends entirely on what sort of leak it is, and how severe. Here are three types of leaks pool owners commonly face:
Structural Leaks. This might sound like a scary category to be in, but most structural leaks are just minor cracks in the pool wall (or tears in the vinyl liner). If you call a leak specialist to find the leak, they can likely fix the problem on the spot without draining the pool. You can even do it yourself using pool sealant or patch that you can find online.
Plumbing Leaks. Leaks in the return lines, suction lines, or the main drain can be more difficult to find, and costlier to fix. Unless you know plumbing, you likely need to call in a professional and get a quote on the repairs. In fact, you may want to get multiple quotes, especially if the first one is costly enough to make shopping around worthwhile.
Equipment Leaks. Things like pool pumps, skimmers, underwater light fixtures, and water features can also leak. In these cases, it's either a minor issue that's easily patched up, or something that calls for replacement of the failing equipment.
Now is a good time to remind you that the vast majority of pool leaks are minor. Costly problems usually happen when a leak goes unfixed over an extended period of time. As long as you catch the leak early enough, chances are it won't cost a fortune to get the problem under control.
Where It Gets Pricey
When you have a long-term pool leak, increased water bills are the least of your problems. All that water has to go somewhere, and that can play havoc with your pool shell, your pool deck, your house, perhaps even your neighbor's house. Even small leaks can cause nasty problems if given enough time.
The other thing about pool leaks is that they're symptomatic of a pool in need of renovation. Of course it's important to deal with the leak as soon as possible. However, if it's a pool that's showing some age, it might also be time to consider longer-term repairs, such as replastering, replacing the liner, etc. Pool renovations are never cheap, but neither is dealing with nagging issues.
To sum up, there's no need to freak out over swimming pool leaks – it's a common issue, usually easily fixed. At the same time, it's important to properly maintain your pool, keep an eye on the water level, and be prepared to act if trouble arises. With a little vigilance, you can head off most pool leak problems before they become a big deal.