Maintaining a pool on a budget doesn't have to mean forgoing "extras" like decorations. While built-in pool inground pool lights can be costly, floating pool lights are inexpensive and can make a dramatic difference in the look of your pool. And while they shouldn't necessarily be your only source of lighting, they can make your pool a little safer for swimming after dark.
Adding Color to Your Pool with Floating Pool Lights
Whether they're for a party or everyday use, floating swimming pool lights can make make nighttime swimming bright and colorful. LED pool lights come in a variety of colors, allowing you to mix and match for the right effect. Some floating pool lights actually alternate between different colored lights, creating their own mini light show.
You can get battery powered or solar pool lights. Battery powered lights can often produce more impressive light displays, and are a good choice for occasional or infrequent use, such as when you want to entertain guests. On the other hand, floating solar pool lights are a good choice for everyday use due to their energy and convenience advantages.
Floating Solar Pool Lights
Solar pool lights absorb solar energy all day long, giving them the power to light up at night. This saves the money and hassle of changing batteries. Some floating solar pool lights can even turn themselves on at dusk, making them a virtually maintenance free addition to your pool.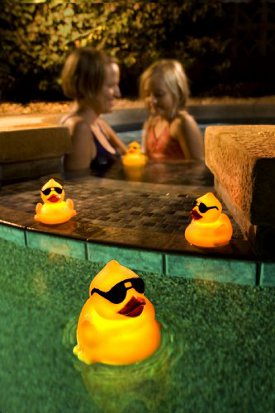 One minor drawback of solar pool lights is that they aren't compatible with a solar pool cover.  Using a pool cover throughout the swimming season can save you a lot of money in heating costs, but it will also block the floating solar pool lights from the sun.
You can always remove the lights from the water after swimming so that they can recharge on the pool deck, but this isn't quite as convenient as letting them float all the time.
Other Floating Pool Decorations
Getting fancy add-ons like lighting, landscaping, waterfalls, and the like can raise the cost of your inground pool dramatically. Even if those extras are in your budget, floating pool decorations can add something more.
On the other hand, if you have a pretty basic pool, floating decorations are an economical way to dress it up. In addition to their low cost, the nice thing about them is that you can remove them whenever you want – giving you the versatility to mix things up as desired.
Other floating pool decorations you can get are:
Floating pool candles
Creative pool floats, such as swans, lily pads, flowers, and other designs
Floating fountains
Visit your local pool supplier or an online retailer, and you're bound to find something you like.