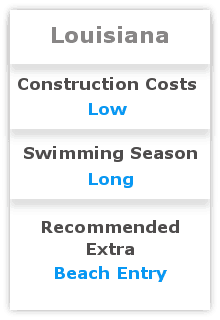 Water is everywhere in Louisiana – in fact, thanks to the notoriously humid weather, it's literally in the air. It's also in the backyards of many residents of New Orleans and other parts of the state, as folks take advantage of generally warm year-round temperatures by installing inground pools.
Fiberglass pools in particular are popular in Louisiana, as their non-porous surface is highly resistant to algae (which thrives in humid weather). Above ground pools are also big in the state due to their affordability and many other advantages.
Swimming Season
In Shreveport and other northern locales, the weather can get chilly in the wintertime, but as a whole, the climate of the Bayou State is very agreeable to swimmers. You'll need to close your pool for a few months of the year, but otherwise, it should be open for as long as you want to maintain it.
Extras
Pool owners in warm weather states often go for fancy extras simply because they get so much use out of their pools. Pick whatever features that fit your budget, look nice, and maintain your interest in the pool. One idea is a beach entry – not only is it great for kids, but it serves as the perfect spot to lounge outside when the temperature is hot.
Installation Costs
Swimming pool construction ain't cheap, but in Louisiana, it's cheaper than most other places. That's because one of the most expensive components of installation – labor – is cheaper than the national average. Of course, if you're handy, there's always the option to do some of the work yourself, reducing your costs even further. Just keep in mind that a reputable builder offers numerous advantages, and since they're relatively cheap in the state, you might want to go with the professional as much as possible.
Permits
Installing a swimming pool requires a building permit, which is handled by the parishes and local governments in Louisiana. The application process is generally more simple in less populated areas, and more complicated in cities. Once you have the application in hand, you can see what sort of information you'll need to provide. A pool contractor who has experience installing pools in your area can be of great help in navigating the process.
Safety Laws
State laws governing pool safety are contained in Title 51 of the Public Health Sanitary Code (look for the Class B requirements to find info pertaining to residential pools). The main highlight here is that all residential pools have to have a fence or be otherwise enclosed to protect the safety of children who may wander nearby. Also important to note is that your local government may have additional safety requirements, particularly if you live in an urban area.