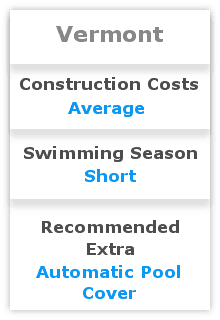 Anyone who says Vermont is the perfect place to own a swimming pool is either a) a pathological liar or b) a pool dealer. The Green Mountain State has exactly the sort of climate you expect when you hear the words "skiing mecca." In other words, it's cold.
But short summers and chilly winters are never enough stop the truly committed from owning a swimming pool. In fact, you can find every variety of pool in the state – above ground, inground, fiberglass, gunite, freeform, geometric, and so on. With the right design and sufficient heating, a pool can make a fantastic addition to a home or vacation property.
Swimming Season
Vermont offers precious few days that are ideal for swimming. In Burlington, for example, July is the only month where the average high temperature reaches the 80s. To stretch out the swimming season and get the most use out of an outdoor pool, you'll definitely want a good pool heater.
Extras
While not strictly necessary, an automatic swimming pool cover is highly recommended to keep the pool warmer and energy costs lower. You can also use a manual pool cover, as long as you don't let the inconvenience of rolling it out dissuade you from keeping your pool covered. Slowing down water evaporation is the most cost-effective way of maintaining a comfortable pool temperature.
But enough practical stuff. If you're looking for a fun feature, an attached spa makes a lot of sense for a pool in Vermont. It can help you warm up after a cool (too cool?) dip in the pool, and you can use it even during the winter when the pool is closed.
Installation Costs
Construction labor costs are around the national average in Vermont. However, that's just one part of the cost equation – with pool size, materials, and extra features also looming large. Heating and/or an automatic pool cover will add to the price. Oh, and if you're thinking of installing your pool indoors to avoid the weather, that will cost you a pretty penny.
You can save a lot of money by installing the pool yourself, or at least doing some of the work. This could be a viable option if you're handy and the project is simple (above ground pool or inground pool kit). Otherwise, you'd be wise to hire the best pool builder you can afford. The City of Burlington offers a helpful guide for people looking to hire a contractor.
Permits
You'll need a building permit for pool installation (or any other major home renovation) in Vermont. The exact application form and process varies by city. However, you're generally required to submit the details of the project along with a payment based on its total cost. Getting this important paperwork submitted can be intimidating, which is another reason why it's good to have an experienced contractor working for you.
Safety Laws
While there are statewide laws governing safety at public pools, residential pools are a local matter in Vermont. The most common (and expensive) requirement is to have a safety fence surrounding the pool. But don't assume anything when it comes to local laws. You and your builder should be well-versed in the requirements during the planning stage to avoid any nasty surprises.