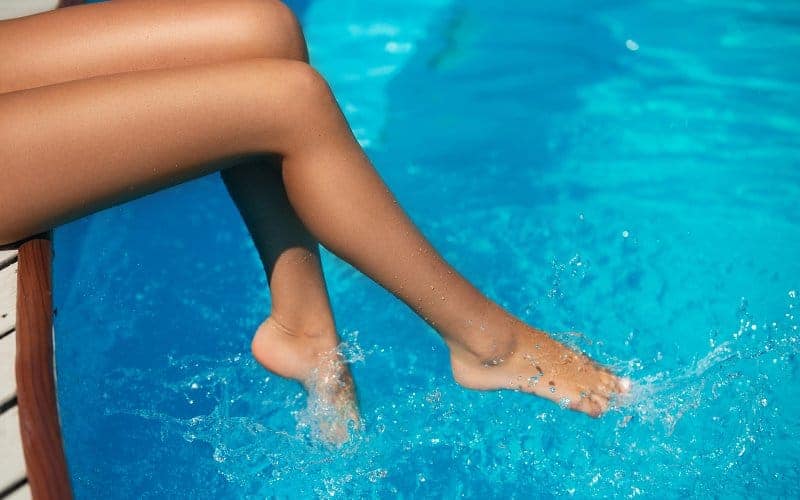 When the subject of pool temperature comes up, the conversation is usually about chilly water and the need to heat it up. But if you live somewhere like Texas or Arizona, you might face the opposite problem. During the hottest months of summer, your pool water can rise to near-hot tub temperatures – making it far from the refreshing oasis you're looking for.
There are a few different techniques for cooling pool water, but one of the simplest and most affordable is by using a pool aerator. In essence, aerators return water to your pool in spray form, exposing more of the water to cooler air. This can drop the water temperature by five degrees or more, which can make all the difference in the world.
How a Pool Aerator Works
Changes to water temperature lag behind changes to air temperature. That means that when you take a dip in a swimming pool on a hot afternoon, the water typically feels cool – certainly much cooler than the current air temperature. In fact, the water temperature is closer to the average air temperature over the last week or so, which includes both day and night temps.
Another important (if obvious) point is that the more the water is exposed to cooler air, the lower the overall temperature of the pool will be. This is why pool covers are so effective at keeping a pool comfortable when average air temperatures are lower. When placed on a pool overnight, a cover prevents the surface of the pool from coming into contact with cooler air.
A pool aerator does just the opposite. It exposes the maximum amount of water to cooler air, so it remains at a lower temperature during the warmest times of day. Exactly how much it lowers water temperature is dependent on a lot of factors, including nighttime air temperature and humidity.
If you have a water fountain or other water feature, you already have some aeration going on. However, a specially designed pool aerator is likely more efficient, effective, and affordable if your only goal is to lower the water temp. Because it simply attaches to your pool's return line, it's also relatively easy to install.
Who Needs a Pool Aerator?
You'll know you need a pool aerator when you slip into your pool in mid-July and it feels like bath water. That said, you can get a pretty good idea of whether you're going to need pool cooling before you get into hot water (literally). Here are three ingredients of a steamy swimming pool to watch out for:
High Average Air Temperature. If the air temperature drops low enough at night, you probably won't have a problem with warm water (that is, as long as you don't cover your pool). It's when the temperature is warm around the clock that the pool can become intolerably warm.
Shallow Water. A lot of modern pool designs eschew the once-popular "deep end" for a shallow uniform depth. Such shallow pools are more prone to warming because there's less water and more of it is close to the surface.
Above Ground Pool. Above ground swimming pools have a tendency to heat up because heat transfers through the pool walls. However, that's not to say that inground pools can't also get warm – they can, and do.
While running a pool aerator at night is guaranteed to lower the water temperature, note that it may not lower it enough. For heavy duty cooling, you may have to spend extra money to install a pool chiller. But without a doubt – if you can get by with a pool aerator, it's a simple solution for beating the heat when you need it most.