When you start planning an inground swimming pool, it's natural to obsess over the obvious, in-your-face design decisions like pool shape, placement, and materials. However, there's one equally important piece of the puzzle that's lurking beneath the surface (literally). That issue can be summed up with one deceptively simple question: How deep?
As basic as that question might seem at first glance, it's far from straightforward. In fact, many prospective pool owners find this to be one of the most agonizing decisions in the whole design process. That's because the ideal pool depth depends on a lot of factors, but ultimately boils down to a personal choice that only the individual can make.
Best Pool Depth For Different Activities
For starters, think about how you plan to use the pool. No, scratch that. Think about everyone who will be using the pool, and what they will be doing. Then consider these rough guidelines for the optimal depth for various activities.
Kiddie Play Area: 3′ or Less
The ideal kiddie pool allows children to play and practice swimming skills, while still being able to touch bottom and stand up with their heads above water. That said, if you're planning for the long haul, bear in mind that kids grow up fast. Those little squirts will soon be teenagers who might not be inclined to spend time in the shallow end.
Swimming: 3.5′ or Deeper
For swimming, the water needs to be deep enough for a full range of motion without scraping your knuckles on the bottom. If you're really into swimming, you might want to consider a lap pool or swim spa. For serious swimmers, the length of a typical backyard pool is a bigger issue than its depth.
Recreational Sports: 3.5′ – 4′
For recreational activities like volleyball and basketball, the water should be a depth where players can stand up, swim, and generally maneuver with ease. Ideally, depth should be uniform over an area large enough for the whole game to be played, to avoid giving some players an unfair advantage.
Lounging/Cooling Off: 3.5′ – 4′
For hanging out in the pool, the water should be at least waist high. A general guideline is 3.5′ – 4′ but the height of the swimmers is worth considering if only one or two people will be using the pool most of the time. Also, consider an extra-shallow area where people can set up loungers and dip their toes in the water.
Jumping In (Feet First): 4′ or Deeper
To avoid injuries when jumping in feet first, the water needs to be deep enough to absorb the person's impact. For teens and adults, deeper is better.
Diving (Head First): 9′ or Deeper
Whether it's off a diving board or the pool deck, diving is one of the most dangerous activities because of the potential for head injuries. Note that if you're installing a diving board, local laws may come into play (along with insurance issues). Consult with your pool builder to make sure the depth of your pool conforms to any applicable safety laws.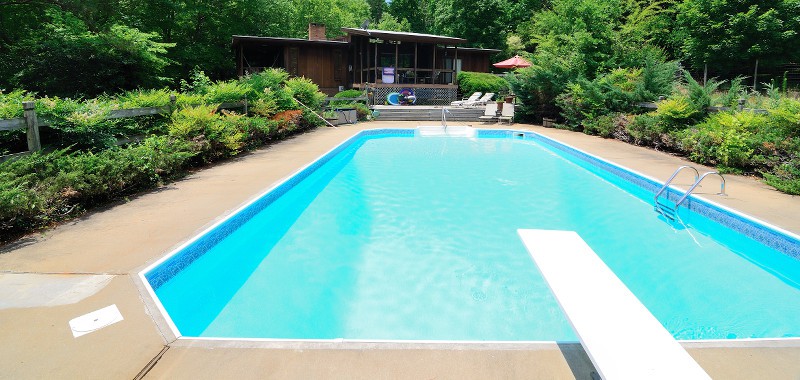 Multiple Depths
If you only want to do one thing in your pool, then a pool with one depth throughout could fit your needs. However, most people need to balance different priorities, and that usually means installing a pool with multiple depths.
The classic backyard pool has a shallow end on one side (say 3.5′ deep) and eventually transitions to a deep end (5′ or deeper). However, you can also get a pool that's shallow on both ends and deeper in the middle. Finally, while not always practical, L-shaped pools are great for separating the deep part of the pool in its own discrete nook.
One important thing to keep in mind is that you need a transition area (slope) between each change in depth. The greater the difference, the longer the slope generally needs to be. In other words, you might need to increase the length of a pool to accommodate a big change in depth.
There's one big exception to the above, however. A baja shelf (aka sun shelf) is an increasingly popular option for residential pools. With a baja shelf, the shallow area drops immediately to the deeper area with no slope.
Is your head exploding now? Whether you're planning a fiberglass pool or not, one great way to get ideas about pool depth is to look at the fiberglass pool shells offered by some of the big manufacturers such as Blue Hawaiian. Fiberglass pool shells come in a large-but-finite number of forms, allowing you to see a range of options.
Two Final Points
If all that isn't enough to chew on, there are a couple of practical matters that could affect your choice of pool depth.
First, all things being equal, deeper pools are more expensive. They require more materials and labor to build, and more chemicals, heat, and water to operate. This is mainly an issue for diving pools, or any other design that includes an extra-deep end.
Secondly, it's important to keep safety in mind when deciding on pool depth. We touched on this above when discussing diving boards, but it has broader implications. There are many different ways people can get hurt when using a pool.
Unfortunately, there's no one-size-fits-all recommendation here. Shallow water is generally safer for children and poor swimmers. Deeper water is better for jumping and diving, regardless of age. Again, the best advice is to keep in mind who's going to be using the pool most of the time.
With so many factors to consider, it's easy to see why the issue of pool depth can send people off the deep end. Sad to say, there's no perfect solution in many cases. But with careful consideration – and the expert opinion of your pool builder – you can come up with the best solution for your needs.