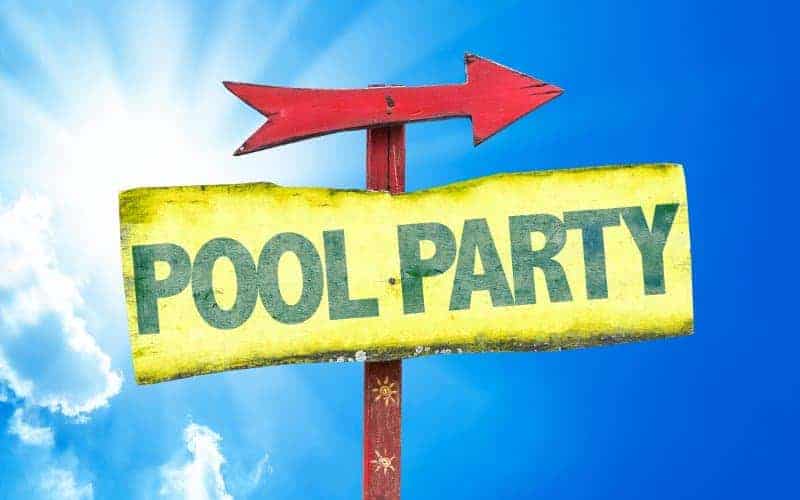 Whether we're talking about an intimate gathering of adults, or a big birthday bash for kids, a pool party is always one of the highlights of summer. Unfortunately, magical summer parties don't happen all by themselves. Somebody has to make the magic happen – and if that somebody is you, it's time to start gathering as many awesome pool party ideas as you can wrap your head around.
Of course, hosting a pool party is easier if you have a pool that's designed for entertaining. But even if you don't have that luxury, there are simple and inexpensive things you can do to turn your pool into a fantastic party spot. To get things rolling, here's a big collection of ideas for themes, decorations, food, games, and general pointers – all aimed at making your swimming pool party the stuff of legend.
Pool Party Themes For Adults
A pool party doesn't necessarily need an elaborate theme, especially if most or all of the attendees are grownups. But if you've hosted and/or attended a lot of pool parties, it might be time to shake things up. Plus, executing a theme can make planning more fun, and the party itself more memorable.
Here are some of the top pool party themes for adults (some may also work for teenagers and mixed groups). Keep in mind that you don't have to go all out with any particular theme – you can always dial it back and only use a few ideas.
Beach Party
A beach pool party is both fun and easy to pull off. Think beach balls, flip flops, sand, surfing, volleyball, and all the other elements of a radical beach party. There's a wide selection of beach-themed party invitations to choose from online, or you can easily print your own. For food, a simple grill-out is perfect, topped off with popsicles and other treats straight from the ice cream stand.
Hawaiian Luau
Pull that tacky Hawaiian shirt out of the closet – it's time for a luau. While guests should be encouraged to dress appropriately as well, you can make sure everyone has the right look by passing out leis. Decorations should include tiki torches and tropical flowers (real or fake). If you want to go all out, you can have a pig roast, but kebobs with pineapple and other tropical flavors are much easier. For invitations, a message-in-a-bottle kit makes a strong impression:
Patriotic/4th of July
If you're hosting an Independence Day party around the pool, you'll want to make sure red, white, and blue are everywhere – from invitations to decorations to food. Plant miniature flags in the appetizers and serve all-American hot dogs straight off the grill. When the fireworks go off, pass out bomb pops or other patriotic goodies for the perfect finale.
Under the Sea
Decorate your pool area with sea shells, tridents, crabs, octopi, and other sights from under the sea. If you'll have children in attendance, you can even work in some ideas from the mermaid/pirate themes (see below).
Hollywood Glamour
The scene: your pool, decorated with the glitz and glamour of Hollywood. Enter a group of your friends, possibly dressed up as their favorite actors. Cocktails and gourmet appetizers are served. A movie plays on an outdoor screen after dark. And… action!
Pool Party Themes For Kids
Themes are a much bigger deal for kid parties, including those hosted around the pool. Kids love dressing up, playing imaginative games, and of course, eating creative theme food (preferably loaded with sugar). And of course, moms and dads love making all this stuff happen.
If it's a birthday bash, the theme is often based on the favorite characters or interests of the birthday boy or girl. That said, here are a few of the most popular choices for kiddie pool parties of all types:
Waterpark
A swimming pool is enough to keep most kids entertained for an afternoon, but why stop there? The idea here is to build a full-fledged amusement park around your pool, with things like sprinklers, Slip n' Slides, or perhaps even a rented bounce house. You could also put out water balloons and/or water guns, then get out of the way as the kids drench everything in sight.
Mermaids
Mermaid parties are always a big hit with young girls, but having a pool as the setting just takes it to another level. Create an "underwater" paradise for your little mermaids by decorating the pool area with lots of blue balloons and wave-like streamers. Serve up blue punch, cupcakes with blue frosting, Goldfish crackers, and/or shells with cheese. Send the kids home with sea-themed trinkets or a keepsake photo of them dressed up as a mermaid.
Pirates
Whether it's an all-boys party or a mixed group, a pirate theme can be loads of fun. Send invitations on a treasure map with an X marking the spot (the location of the party). Pass out eye patches, temporary tattoos and other pirate booty as party favors. Oh, and make sure the Jolly Roger is flying somewhere, whether it's a full-sized one on your pool deck or miniature toothpick versions planted in cupcakes, hot dogs, or other food.
10 General Pool Party Ideas
There are lots of details to tend to for any party. But for a pool party, the considerations are a little bit different. Here are some general thoughts:
1. Send invitations early. People have a lot of social commitments over the summer, so be sure to send your invitations out about four weeks in advance. Include an RSVP date and contact so you can get an idea of how many will be attending well in advance.
2. Decorate with balloons, beach balls, and pool noodles. You don't have to spend a fortune on decorations. There are lots of DIY tutorials online for creating decorations with common pool items. Here's one on making a beach ball arch.
3. Put together a great pool party playlist. Music sets the tone for any party. Look for songs with a summery vibe and tunes that reinforce your party theme.
4. Have extra lighting in place if the party goes after dark. Your normal pool and patio lighting might not be enough for a party. Consider lighting pathways and adding some ambient lighting. Outdoor string lights in particular are inexpensive and versatile.
5. Have extra towels, sun screen and bug spray on hand. You can ask guests to bring some of these items themselves – but let's face it, not everyone is going to remember. One elegant solution is to hand out some of these necessary items as party favors.
6. Rearrange pool furniture. Your current pool deck configuration might be perfect for everyday use, but how will it work for a party? Take some time to de-clutter your pool area and rearrange furniture for the extra traffic.
7. Pick up a unique pool float or two. The pool is obviously the centerpiece of the party, so anything you put in the pool will get extra attention. Therefore, it might be worth the money to pick up some fun pool floats that fit your theme or just make a big impression.
8. Hand out customized water bottles. Whatever else you serve, you'll probably want to make water available to your guests. Why not pick up some blank labels and decorate the water bottles to fit your party's theme?
9. Give guests a place to escape the sun. Consider whether you have adequate shade for your guests. This is particularly important if you're expecting a hot day and/or you have elderly guests attending. You can rent a canopy or other temporary structure if needed.
10. Keep kids safe. Whether it's a party for kids or just including kids, you'll want to make sure they're safe around the pool. Post pool safety rules in a prominent place, and assign a "lifeguard" to supervise the pool at all times. Also be aware of any safety issues with other kiddie attractions you're planning, such as bounce houses and water walking balls.
Whew! That's a lot of pool party ideas to chew on. When you're ready for more, head over to Pinterest for more inspiration. Our Summer Pool Party board is a great place to start.