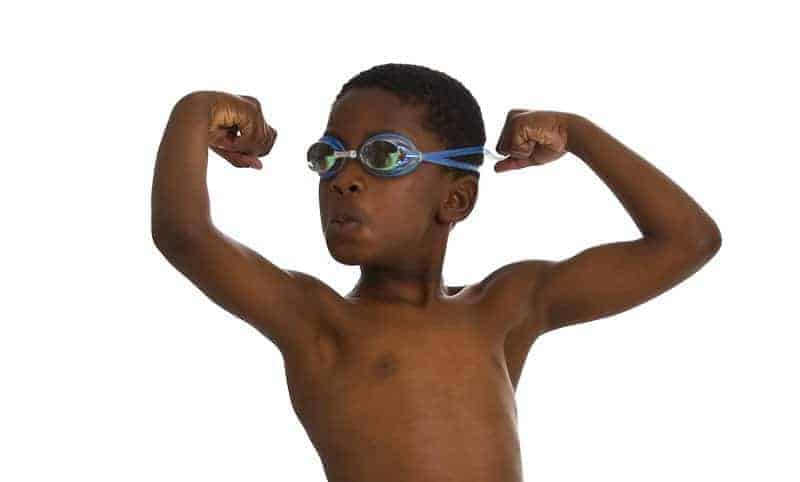 Five out of five experts agree: Exercising in the water is great for your body. Water offers both resistance and support, allowing you to get an intense workout without straining joints. You're also more likely to stick with a water-based exercise program because it's simply more fun.
Of course, you're extra likely to stick with it when you have an exercise pool right in your backyard. The perfect exercise pool is designed and outfitted to support the type of workout that appeals to you, whether it's swimming, water aerobics, or some other pulse-pounding, low-impact activity. Naturally, it's also ideal when it serves general recreational purposes as well – all while fitting within your budget.
Sounds like a tall order, right? Fortunately, there's a wide range of exercise pool options, for both new pools and existing ones. Here are some of the best ways to get a home-based water workout, along with the all-important cost information.
Lap Pools
If you like the idea of taking a swimming lane from an Olympic-size pool and plunking it down in your yard, then a lap swimming pool might be for you. Of course, you'll need a long stretch of land to accommodate it – a real competitive swimming lane is 75 feet, with 45 feet being the bare minimum acceptable for most serious swimmers. While they're made for swimming, lap pools positively ooze style and are the centerpieces of many swanky homes.
How much does a lap pool cost?
The same rough price guidelines apply to lap pools as any other inground pool. Overall, they tend to larger, more luxurious end of the spectrum, so expect to pay $50,000 or more. Naturally, a lot depends on the exact layout of the pool, the materials you use, and the going rate for pool construction labor in your area. You can even find above ground lap pools, which would be considerably cheaper than inground ones.
Swim Spas
For many people, trying to find room for a lap pool can be difficult-to-impossible – and that, undoubtedly, is the main reason for the rise of swim spas. These space-saving mini pools generate a current that allows you to swim in place. Endless Pools is probably the biggest name when it comes to swim spas, though there are a variety of other options to choose from. Most swim spas are above ground, but you can get inground installation as well.
How much does a swim spa cost?
Swim spa pricing varies significantly by brand and model. You can buy a soft-sided above ground swim spa such as the Fitmax iPool for $1,000 or less. On the other end of the spectrum, a high-performance swim spa can run $20,000 or more. As you might expect, custom swim spas and/or inground installation can drive the cost up further.
Swim Jets For Inground Pools
Swim jets are a great choice for those who want to bring the swim spa experience to a traditional inground pool. These current generation systems can be built into the pool wall (typically with new installs only), or attached to the pool deck (for new installs or existing pools). Badu Jet is one of the more popular pool jet brands on the market.
How much do swim jets cost?
Swim jet pricing depends largely on whether the system is built into the pool wall or sits on the deck. The systems themselves typically cost anywhere from $7,000-12,000. Installation cost varies by model, pool type, and pool builder rates.
Swim Tethers
Also called stationary swimmers, swim tethers are a low-tech option for swimming in place. With these systems, the swimmer wears a belt with a resistance band anchored on the pool deck (usually via a pole). Swim tethers work with virtually any type of pool, including above ground pools. You might need a slot in your pool deck to hold the tether pole, but otherwise, installation is simple.
How much do swim tethers cost?
Swim tether pricing varies from product to product, but they can generally be had for less than $200. Simple, portable pool tethers cost far less than that. The high end of the range is reserved for built-in setups that may also call for professional installation.
Underwater Treadmills
You may see these referred to as water treadmills, a name that is also sometimes applied to swim-in-place systems. To be clear, these are running treadmills that are submerged in water. They're most often associated with water rehabilitation and elite athletic training, but there's nothing that says they can't be for casual/residential use as well. Some aquatic treadmills come in freestanding tanks, while others are designed to be used in an inground swimming pool.
How much does an underwater treadmill cost?
Underwater treadmill pricing is all over the map. A lot of freestanding underwater treadmills are priced for institutional use, and can cost $10,000 or more. Inground pool treadmills tend to be much cheaper, and can be found for $1,000-2,000.
Pool Exercise Equipment
Before splurging on expensive systems and bulky machinery, be sure to consider what you can accomplish with exercise equipment alone. Not only is it cheaper, but it's generally far easier to stow away – giving you maximum space for leisure activities when you're not using your pool for exercise. Here are a few of the most popular and ingenious pieces of equipment to look at:
Weights. Foam dumbbells provide a surprisingly effective workout thanks to their buoyancy. Ankle and wrist weights amplify the muscle-toning effect of moving around in water.
Swim Gloves. These gloves feature webbed fingers, providing extra resistance for swimming, walking, and other forms of water training.
Aqua Jogging Belts. Similar to foam barbells, water running/jogging belts use the power of buoyancy to intensify your workouts. You can do an assortment of exercises by varying your movements and the depth of the water.
Pool Noodles. Is there anything a water noodle can't do? These all-purpose pool toys are mainstays at water aerobics classes because they facilitate a lot of different exercises.
The best exercise pool is the one that helps you achieve all of your fitness goals. For many, that comes from some combination of smart design, integrated exercise systems, and simple standalone equipment. Coming up with the right mix might take some time, but the health benefits you'll enjoy through water exercise make it all worthwhile.