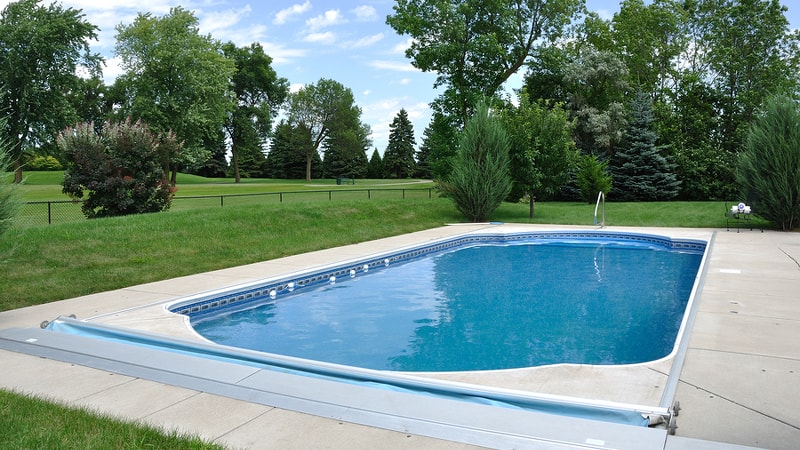 Safety pool covers for inground pools aren't cheap, but even at their high cost, they represent one of the best investments you can make.
While nothing substitutes for a tall enclosure, pool safety covers act as a last line of defense against tragedy. They prevent children and pets from falling into your pool when you're not around – protecting the most vulnerable from danger, and you from liability.
Swimming pool safety covers cost as little as $400 and as much as $1200 or more, depending on the size of the pool, the quality of the materials, and any additional features you need.
Safety covers are also typically effective at insulating your pool when it's not in use, saving you money on heating costs. However, if saving energy is your only concern, then you can get a solar inground pool cover for even less.
Swimming Pool Safety Covers – What to Look For
The job of a safety pool cover is to keep people or animals from inadvertently falling into your pool. Therefore, the primary thing you're looking for is sturdy material. There are two types of pool cover to consider:
Solid pool cover. Just as the name implies, this is a pool cover that comes in a single piece. A downside of these covers is that they collect precipitation, adding weight to the surface that could cause it to sag.
Mesh pool cover. This pool cover is made up of panels that allow rain to seep through. A downside is of this type of cover is that it also allows other small debris to get into your pool.
If you live in a colder climate, you may also want to make sure your safety pool cover can withstand the winter months. You can always buy a separate winter pool cover, but that's more money and more to store. Finding one cover that does both jobs is ideal.
Perhaps the most important feature of all is convenience. If the cover is too difficult to put on the pool, then you may be tempted to leave it off. Obviously, this defeats the purpose of a pool safety cover. It only works if you actually use it.
Automatic Pool Covers
The most convenient safety pool cover is one that rolls out with the flip of a switch. Automatic pool covers cost more, but make it easy to keep your inground pool safe and energy efficient throughout the swimming season.
The time to install an automatic electric pool cover is when you first build your inground pool. After that, it might be difficult to integrate the cover in an unobtrusive way – that is, without an expensive remodeling.
Safety Pool Covers for Inground Pools – A Safe Bet
Drowning is the most common type of accidental death in children, who are naturally attracted to swimming pools and can be ingenious when it comes to bypassing barriers like fences. While swimming pool safety covers can add significantly to the cost of an inground pool, the peace of mind they offer is worth it for many pool owners.