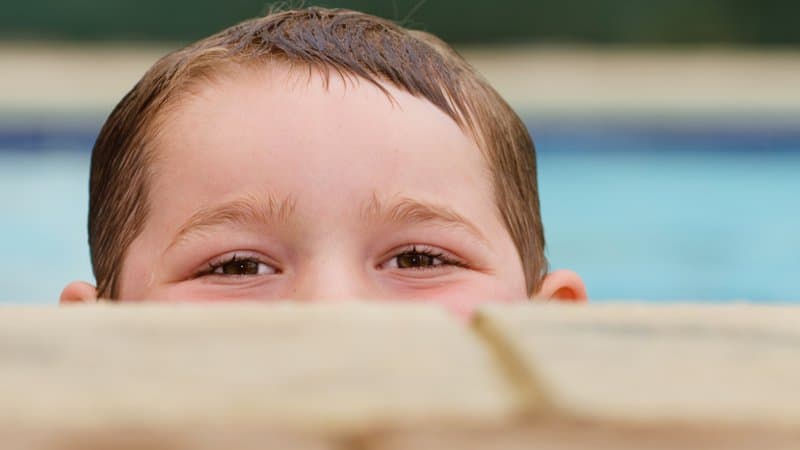 When you start researching inground pool coping, you are officially in the pool design weeds. Because let's face it, no one who's just tinkering with the idea of building a pool is thinking about pool coping. In fact, you could be forgiven for not even knowing what pool coping is if you've never owned a pool before.
Pool coping serves the practical purpose of connecting an inground swimming pool to the pool deck. But the relevant issue for would-be pool owners has more to do with looks. Pool coping can blend in or stand out, but either way, it's a major element of a pool's appearance.
What is Pool Coping?
In architecture, coping is material used to cap off a wall and protect it from the elements. But because the walls of an inground swimming pool are buried, it makes more sense to think of pool coping as a border around your pool. As mentioned, it also serves as a transition area between the pool and the pool deck.
The need for this transition area creates an opportunity to add a little style to your pool design. That's because the materials you choose for your coping can be different – perhaps wildly different – than what you have for the pool deck. By using distinctive colors, shapes, and/or textures for the coping, you can highlight and draw attention to your pool's form.
A shorter way to put it: If your pool is a masterpiece, the coping around it is the frame.
Pool Coping Options
Coping is used for concrete, fiberglass, and vinyl inground pools, though not in quite the same way for each. Generally speaking, these are the main options:
Poured Concrete. You may also see this referred to as cantilevered concrete coping. "Cantilevered" means the concrete is poured so that the edge of the coping extends slightly past the pool wall and over the water. This type of pool coping is popular for its affordability and sharp looks, and can be further dressed up using stamped concrete or exposed aggregate.
Natural Stone. You may also see this referred to as solid stone coping. We're talking about coping made up of natural stones like bluestone, flagstone, granite, or travertine. More expensive than poured concrete, this type of coping is most common on high-end luxury pools and seems especially appropriate for naturalistic freeform designs.
Precast Concrete. Basically, instead of the concrete being poured onsite, it comes in units that are installed similar to natural stone. This type of coping is cheaper than natural stone, and comes in a wide variety of shapes and colors. It's a good choice if you're searching for a unique look at a reasonable cost.
So, what's the best type of pool coping? That's impossible to say without knowing the size, shape, placement, and surroundings of your pool. Even then, there's room for differing opinions. And of course, the limitations of your budget loom over everything.
Pool Coping Ideas
When deciding on pool coping, you'll definitely want to get the input of a reputable pool professional. A good pool pro can assess your situation and make recommendations without steering you somewhere you don't want to go. Here are a few issues and ideas you might want to bring to the table:
To blend or not to blend? It's not actually an either/or decision, as most pool coping falls somewhere between "indistinguishable from the pool deck" and "stands out like a sore thumb." However, the question of how much you want the coping to stand out is a big one.
Match it to your house. Consider the possibility of using coping to create a visual link to your house. This could mean using similar colors or even materials (for example, using brick pool coping if you have a brick facade).
Upgraded coping = upgraded pool. Whether you're looking at installing a new pool or renovating an old one, coping offers a lot of bang for your buck. This is particularly true of vinyl pools, which often get criticized for the ugly coping that comes standard with pool kits.
If there's one takeaway here, it's that coping can have a surprising impact on your pool's appearance. It may not be the first thing that comes to mind when you start planning a pool, but it's something that deserves a lot of attention when you finally get to it.