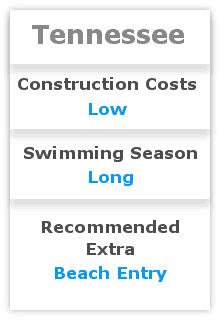 Like other southern states, Tennessee has long, hot, sweaty summers. In other words, it's a good place to own a swimming pool. Whether concrete, fiberglass, or vinyl, inground pools offer relief from the Tennessee heat, while also adding value to your home.
Swimming Season
There's no question that you will get plenty of use out of a backyard swimming pool in Tennessee. In Memphis, Nashville, and Knoxville, high temperatures start regularly hitting the 70s in April and don't cool off until October. It's the same throughout most of the state. The number of swimming days every year are ample compared to other parts of the U.S.
Extras
If you have room in your budget for extra features, you might want to consider ones that help keep you cool in summer. For example, you may want to plant trees to shade your pool deck. For something really ritzy, you could even get a beach entry that allows you to lounge in the water for as long as you like without overheating.
Installation Costs
Building an inground swimming pool in the Volunteer State is a little cheaper than the national average. We recommend taking advantage of the affordable labor costs to hire a professional pool installer. However, if you need to save money, you can always do some or all of the work yourself. There are inground pool kits that can make things easier, and fiberglass pools are also known for ease of installation.
Permits
The addition of a pool is a major project that requires building permits before work can go ahead. You can get all the required permits from your city or county government, usually by filling out an application and paying a fee. The exact steps may be different depending on where you live, and can get pretty complex in urban areas. Get the help of your pool contractor and/or get started early on the process to make sure everything is in order.
Safety Laws
A statewide law in Tennessee requires you to have a pool alarm installed with your pool. Pool alarms are relatively cheap in the scheme of things, but you'll want to make sure you address this detail before construction is completed. There are most certainly other local ordinances you have to follow as well, particularly if you live in a larger city. Consult with your pool company and do your own research to make sure you're fully in compliance before you do your first cannonball in your new inground swimming pool.