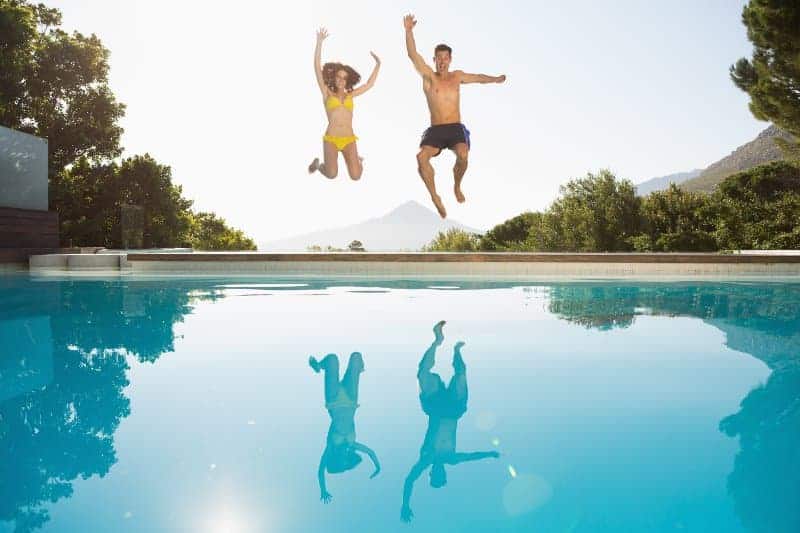 Swimming pools have been around for a long time – at least 5000 years, according to archaeological findings. So, what would we see if we could go back in time and attend an ancient pool party? Probably many of the same sorts of activities people enjoy today – swimming, sunbathing, maybe even a few cannonballs into the deep end.
But while the basics of using a swimming pool haven't changed much over the years, just about everything else has. Pool design is constantly evolving based on new technologies, improved building techniques, and shifts in consumer preferences. In recent years, many pool design trends are being driven by the age-old desire for more luxury and less maintenance.
Of course, if you're planning a pool that will last for decades, it's always wise to be on guard against short-lived fads. That said, many emerging pool features are so smart, so convenient, so neat, that they're bound to stick – that is, until something even better comes along to replace them. To show you what we mean, here are six pool design ideas to keep in mind.
1. Vanishing Edges
You may know them as infinity edge or negative edge pools. Or you may not know them at all, particularly if you don't spend a lot of time at expensive resorts. Well, vanishing edge pools aren't just for vacations anymore.
A vanishing edge is created by shortening the pool wall on one side and allowing water to spill into a catch basin below. It's an expensive setup, and frankly a pointless one if you don't have much of a view from your backyard. But if you've got the money and a scenic spot to work with, you really can't get more luxurious than this.
2. Natural Pools
We're not talking about adding a couple of boulders to your pool deck here. We're talking 100% eco-friendly, chemical-free, frog-approved natural swimming pools.
Natural pools employ an ecosystem of aquatic plants to keep the water clean, eliminating the need for chlorine or other chemicals. The pools can take pretty much any form, from a conventional design to an idyllic little swimming hole that blends perfectly with the environment. The best news is that this is one trend that isn't crazy expensive to get in on – in fact, natural pools are generally cheaper than traditional pools, at least when you factor in maintenance costs.
3. Smaller Pools
If you think you need a big yard to accommodate a swimming pool, think again. Plunge pools, "spools" (pool/spa hybrids), swim spas, and other compact designs are some of the hottest pools around right now. Not only do these pools save space, but they're generally cheaper to install and maintain.
Okay, so you can't play a rousing game of team volleyball in a tiny pool. You can still lounge by the water, take a dip, play with the kids, and do many of the other things that make swimming pools so much fun. And you can do all of those things without giving up a huge chunk of your property.
4. Alternative Sanitation Systems
Chlorine gets no love, despite its proven effectiveness at killing harmful organisms in pool water. The desire to ditch chlorine has led to the rise of salt water systems, which are sometimes marketed as being "chemical-free." However, these systems really only provide a different mechanism (salt water chlorination) for getting chlorine into the water.
For truly chemical-free sanitation, many homeowners are now turning to ozone and UV systems. Unfortunately, these systems don't completely eliminate the need for chlorine. What they can do is reduce chlorine use – whether from conventional application or salt water system – by 50% or more.
5. Beach Entries and Tanning Ledges
There's nothing quite like kicking back at the beach and letting the warm surf wash over your toes. However, you can get pretty darn close with a couple of buzzworthy pool features that mimic the beach experience.
A beach entry (aka zero depth entry) is a sloped pool floor that allows you to gradually descend into the water as if you were walking into the ocean. A tanning ledge (aka baja shelf) is a shallow pool area with an abrupt drop-off. Both features provide a warm and inviting place for kids to play and grownups to relax.
6. Outdoor Living
When you have a swimming pool, your backyard is the place to be. The idea here is to build around the pool, creating an environment that allows you to enjoy it to the max. Here are some traditionally indoor amenities that are great to have outdoors by the pool:
Kitchen
Dining area
Bar
Comfortable furniture
Fireplace
Shower
Obviously, adding all those features would cost a fortune. Fortunately, these things are easy to add on later, after the pool is built and your finances have had a chance to recover. Of course, it always helps to have a long-term plan in mind right from the start, so the pool of your dreams fits perfectly with the yard of your dreams.
These are just a few of the hottest pool design ideas for 2016. We didn't even get a chance to mention glass tile, composite decking, fire elements, LED lighting… the list goes on and on. Swimming pools may have been around since ancient times, but for those building their own private backyard pool, there have never been more options to choose from.