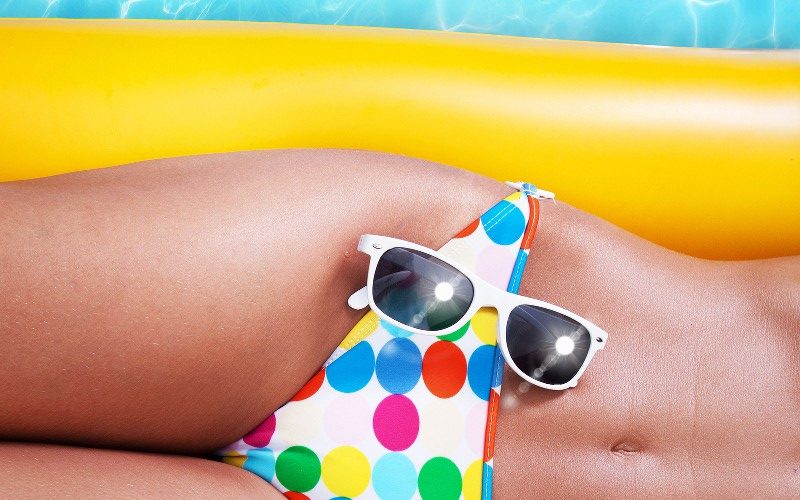 Lounging around by the water is one of the great pleasures of owning a swimming pool. Even better is to float on top ofthe water as you relax with a cold drink or just bask in the sun. Unfortunately, most of the pool floats you come across are either made expressly for kids, or are just too small and awkward for an adult to easily use. However, there are a few exceptional pool floats for adults that are roomy enough to allow you to recline in comfort.
Do you like to sit above the water, in the water, or somewhere in between? Your answer to that question will determine what's the best pool float for you. Here are our top three choices – one from each category.
Best Above-the-Water Pool Float: The Intex Floating Recliner Lounge
This vinyl pool float sits so high off the water that you may not even need to put your bathing suit on to use it. This is perfect for relaxing in your pool when the water is too cold for a dip. It's also great for reading, as there's little danger of your book getting drenched. The flip side: Since you can't easily reach the water, this float can get sticky and uncomfortably hot when temps are high.
Best Deep-in-the-Water Pool Float: Kelsyus Water Hammock
If you like floating in the water (and we mean inthe water), then you will be in heaven when relaxing in this water hammock. The self-inflating perimeter keeps you afloat, while the mesh interior supports your body as you lie largely submerged in the water. Did we mention that the interior is self-inflating? That's another big bonus. On the downside – and this is major for some people – there's no cup holder.
Best In-Between Pool Float: Kelsyus Floating Lounger
If you like staying in contact with the water while not being too submerged, this might be the best pool float available. The Kelsyus Floating Lounger lets you sink down somewhat, while still remaining upright and afloat. You can keep your feet propped up on the attached ottoman, or let them dip into the water. Nice and versatile for reading, sunbathing, or napping on both hot and not-so-hot days.
You can find these floats for adults at pool supply stores, either locally or online. However, you can often find the best deal by ordering online.