A swimming pool is usually more than enough to keep the kids entertained, but it never hurts to pump up the excitement. Inflatable pool floats are not only great fun, but help keep the little ones safe as they learn to swim. If your idea of a pool float is a simple hoop shaped flotation device, you might be surprised at the number of colorful and inventive options there are these days. In fact, they might take your breath away – literally, if you have to blow one of these giant inflatables up the old fashioned way.
The age and personality of your child will determine what the best pool float is for you. For babies and toddlers, look for an unsinkable float that has a canopy to protect against the sun. For older kids, check out some of the more adventurous options. Here are our picks for the best pool floats for kids.
You can find all of these swimming pool floats online. Click on an image to go directly to a product page.
1. Baby Spring Float Sun Canopy (9 months – 2 years)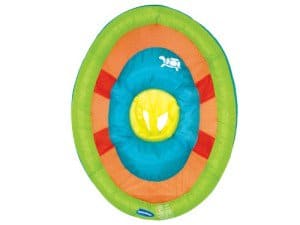 This highly rated float offers a fun and safe little play area to help introduce tots to the water. Owners of this product particularly appreciate the fact that it effectively blocks the sun's rays.
2. Swimways Baby Spring Float Activity Center with Canopy (9 months – 2 years)
This one isn't just a pool floatie, but a full-fledged play area with toys included. The pool canopy is detachable (along with a lot of the other features of this float), so you have the flexibility to use it as needed.
3. Intex Whale Ride On (3-6 years)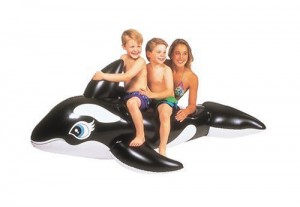 Here's a real whale of a pool float (har har). With two air chambers and measuring six feet long, you'll probably want to use a pump to fill up this inflatable orca.
4. Inflatable Labyrinth Pool Island for Kids (3 years and up)
Why is the Brady Bunch song running through our heads? This float is great for a groups of kids – or perhaps a large-scale game of whack-a-mole.
5. Intex Recreation Corp Gator Ride On (3 years and up)
Another ride-able animal for the kids. This one is reportedly also effective at scaring away any ducks or other pests that might be visiting your pool (no kidding).
6. Excalibur Motorized Inflatable Speed Boat (5 years and up)
This is more than just a pool float. It has an actual motor that allows junior to zip around the pool at up to 4 mph. While this might seem like an extravagance at first glance, it's actually less expensive than many of those toy jeeps the kids ride around on the sidewalk.
7. The Sphere Floating Habitat (5 years and up)
This giant ball allows the kids to climb inside and roll around the pool. Because it encourages vigorous play, this float may have a tendency to wear out or get damaged earlier than others. On the other hand… it's just a lot of fun.
8. Play Maze Inflatable Pool Habitat (5 years and up)
Here's another pool float for kids that encourages a lot of activity. Put this in the water for a birthday pool party and watch the kids go nuts.
9. Pool Bus Habitat Inflatable Toy (5 years and up)
Seriously, how cute is this? This school bus pool float is spacious enough to keep a group of kids entertained. It might cost a little more than what you would expect to pay for an inflatable pool float, but can you really put a price on cuteness?
10. StarFighter Super Squirter Swimming Pool Spaceship (5 years and up)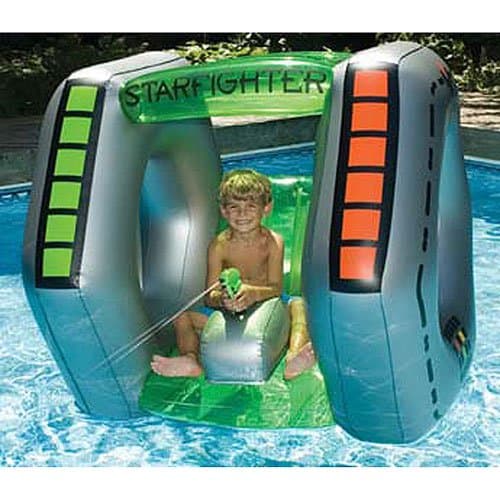 This sci-fi pool float is a dream come true for any little boy (and more than a few little girls). Sure, it's huge. And getting squirted by the constant-supply water blaster while trying to sunbathe is going to get annoying at some point. But if you're looking to spoil your child, you can't really do better than this.