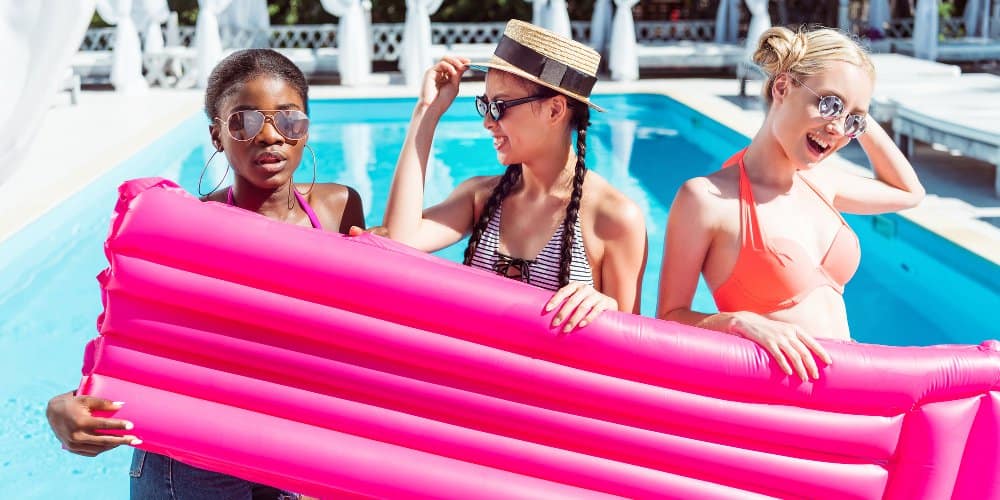 It's no mystery why so many people dream about owning a pool. It's like having your own private getaway right outside your backdoor. That's especially true if we're talking about resort-style pools, which are designed specifically for the "staycation" experience.
So, what exactly is a resort-style pool? It's the sort of elegant, luxurious, and immaculate pool you might encounter on an expensive vacation to an exotic locale. More specifically, it's the sort of pool that fits with – you might even say epitomizes – resort-style home decor.
With that intro, you won't be surprised to learn that resort-style pools tend to fall on the higher end of the cost spectrum. While they aren't necessarily large (see more on that below), their superior materials and features will cost you a pretty penny. Here are some of the main elements of this type of pool.
1. Right-Sized
Resort-style swimming pools are more geared toward relaxation, rather than swimming, sports, or rowdy play. Therefore, they tend to be smaller than the typical multipurpose family pool. While there's nothing necessarily wrong with going big, a smaller pool simply leaves more space and budget for other important features.
2. Upscale Pool Furniture
Elegant outdoor furnishings are a hallmark of luxury resorts, and therefore a must for any resort-style pool. The ideal furniture is both beautiful and comfortable (remember, the point is to relax). In addition to the usual loungers, consider going the extra mile with an outdoor sofa, sun beds, cocktail tables, and the like.
3. Water Lounging Features
Resort-style seating doesn't have to stop at the water's edge. Many modern pool designs include a baja shelf, which allows you to set up pool furniture directly in the water. Other, more expensive options for resort-style lounging include beach entries and built-in pool seating. And then, of course, there's the ever-popular jacuzzi or spa.
4. Shade
Any decent resort pool has shade options for the patrons. The same goes for any decent resort-style backyard pool. At a minimum, the pool should include an umbrella or two, whether built-in or freestanding. Other options include sun sails, canopied pool furniture, or even a cabana. It's all about comfort and being able to spend as much time as possible by the pool.
5. Tropical Ambiance
A few tropical cues can help transport you to paradise when you step into your resort-style pool area. This could include bright flowering plants, teak furniture, and other elements that call to mind exotic destinations. Just be sure to keep things tasteful and steer clear of the tiki tacky style that's common at many backyard party pools.
6. Outdoor Dining
Enjoying food and drink outside by the pool is one of the chief pleasures of visiting a resort. Therefore, a good resort-style swimming pool should include a patio table that's suitable for dining, along with cocktail tables and the like for holding drinks. A full-fledged outdoor kitchen or bar is even better, if you have the budget.
7. Seclusion
A necessary part of creating a luxurious getaway in your backyard is making sure the outside world doesn't intrude. There are many ways to block sight lines to your pool, from fencing, to landscaping, to your choice of pool placement. But don't forget about sound. Nothing spoils a peaceful tropical vibe more than the din of traffic or noisy neighbors.
As you can see, a resort-style swimming pool is a special breed – and a more costly one compared to a typical backyard pool. But then, luxury never comes cheap. And just think, with a resort pool right in your backyard, you may never need to go on vacation again.