It's a cold, hard fact: Northern climates offer fewer days that are warm enough for swimming. For some northerners, that makes a backyard pool an impractical investment, full stop. For others, it's just an obstacle.
The truth is, there are many satisfied pool owners in the northern United States, Canada, and other places with long and harsh winters. Some are happy to enjoy their pools for just a few months out of the year, while others configure their pools to extend the swimming season as long as possible. The best pools for cold climates have a combination of the right design and the right add-on features.
Building a Pool For Colder Weather
If you live up north, getting your money's worth out of a pool starts with careful planning. The goal is to build a pool that 1) stands up to winter weather and ground freezing, and 2) makes it easier to enjoy the pool even when conditions aren't perfect for swimming.
Of course, price always looms over everything. Since you're getting less use out of the pool, you may want to consider a smaller investment. Another reason to opt for a cheaper pool is the possibility that you won't recoup your investment when you move, if potential buyers in your area don't want or expect a swimming pool to be included with a house. Just make sure you don't build a pool that's too low scale for your home.
Best Pools For Colder Climates

| Type of Pool | Cost | Benefit |
| --- | --- | --- |
| Above Ground Pool | $ | Smaller investment |
| Spool (Smaller Pool) | $ | Cheaper to build and keep heated |
| Gunite (Concrete) Pool | $$ | Holds up well in colder climates |
| Indoor Pool | $$$ | Allows for year-round swimming |
If you're content to enjoy your pool for a short while each year, an above ground pool is the low-risk option. It won't add much, if anything, to your property value. However, the upfront cost is comparatively low, and unlike the other options, it's easy enough to remove if you're not satisfied.
At the other end of the price spectrum are indoor pools. We've discussed their pros and cons elsewhere, but main barrier for most people is the enormous cost to build the pool. A big part of that cost are the renovations necessary to integrate a swimming pool into your home.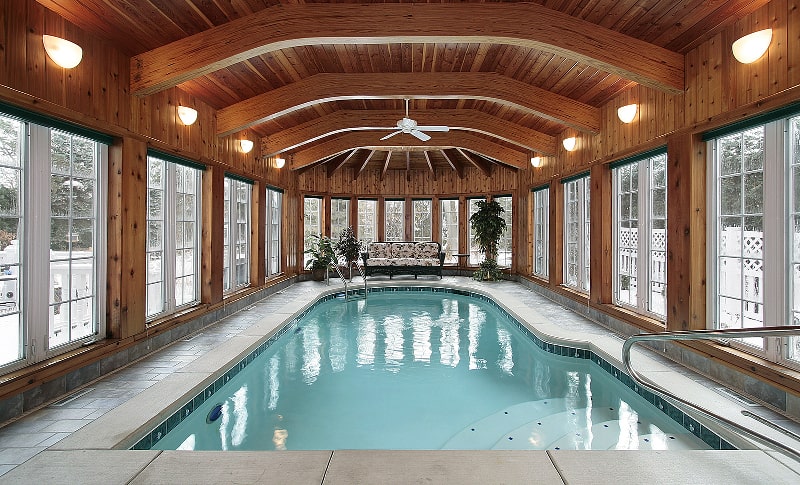 As for building materials, concrete is a safe choice provided it's installed correctly. Vinyl is also a sound choice, and an economical one if you're concerned about keeping your expenditure down. It's unclear whether fiberglass is a good option, as there are concerns about the shells popping up due to ground freeze (fiberglass pool companies insist that this is just a myth).
If you decide to go with a full-sized outdoor pool, you may want to consider adding a spa. Since it shares plumbing and filtration with the pool, you potentially get a discount compared to what you would pay for a standalone installation. Plus, it gives you something to do when the weather turns too cold for swimming.
Best Features For Up North
Add-on features can also help you get more out of your pool investment if you live in colder climate. Obviously, investing in a good pool heater can extend the swimming season (at a cost). Other features can also increase the number of days you can swim, or make it more affordable to keep the heater running.
Recommended Features For Pools in Colder Climates

| Feature | Cost | Benefit |
| --- | --- | --- |
| Pool Cover/Solar Pool Cover | $ | Prevents heat loss from water evaporation |
| Evergreen Trees | $ | Block wind effectively, don't shed leaves into pool area |
| Winter Pool Cover | $$ | Protects pool from wear and tear during winter months |
| Pool Automation | $$ | Allows greater control over energy usage |
| Automatic Pool Cover | $$ | Same benefits as pool cover, but much easier to use |
| Pool Heater | $$$ | Extends swimming season |
| Enclosure | $$$ | Allows for swimming when weather is poor |
Blocking the wind is a simple thing you can do to get more use out of a northern pool. Not only does it make cooler air temperatures more tolerable for swimmers, but it cuts down on water evaporation and cooling.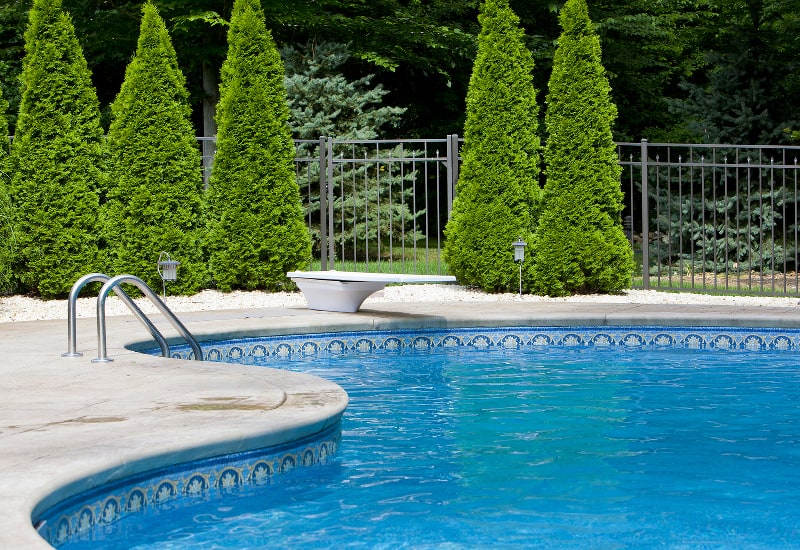 What pool features should you avoid if you live up north? Water features spring to mind, as they expose water to air, cause more evaporation, and generally lower water temperature. In addition, since you're already paying for heating, you may not want the extra energy cost of running deck jets or a waterfall.
That said, the goal shouldn't just be to have the best pool for a cold climate, but the best pool for you. In other words, not every design choice should be dictated by the weather. You'll get the most enjoyment – and the best return on your investment – if you build a pool you really love.