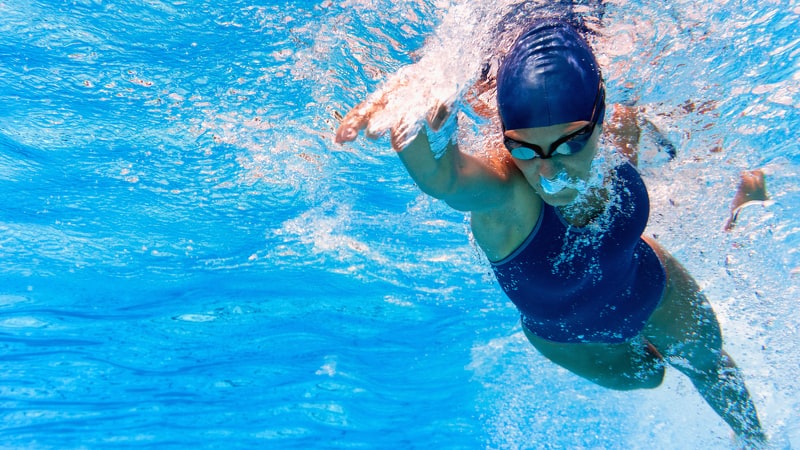 Lap pools are a popular choice for homeowners who want to enjoy the health benefits of swimming right in their own backyard. Fiberglass swimming pools are a great option for people who want to avoid the maintenance hassles of concrete or vinyl. Fortunately, these two growing trends aren't mutually exclusive. Fiberglass lap pools give you the exercise you want without the extra maintenance you don't want.
Granted, fiberglass lap pools are still a bit of an exotic species. But if you're willing to do the extra research, owning a fiberglass lap pool offers a number of benefits you can't find anywhere else. Here are a few:
Lower Maintenance. Fiberglass pools are more durable than vinyl and more algae resistant than either vinyl or concrete (gunite). This can save you money on pool chemicals and repairs.
Smooth Surface. The smooth surface of fiberglass is arguably better suited to lap swimming. You're less likely to scrape your hands on the bottom of the pool or your feet when making a turn off the wall.
Easy Installation. Fiberglass pools are easy to install compared to other types of pools because the shell is delivered to your house in one piece, ready to be placed in your yard.
Also worth noting is that some of the usual advantages vinyl and concrete enjoy over fiberglass are neutralized when talking about lap pools. For example:
Size Limitation. Fiberglass pool shells have to be shipped intact from the manufacturer over public highways – a fact that limits how large they can be. With a lap pool's elongated dimensions, this isn't as much of an issue.
Shape Limitation. Another advantage the other types of inground pools have over fiberglass is that they can be shaped however you want. With fiberglass, the shells are premade, so you're limited to whatever is available. However, with the uniform nature of most lap pools, you won't necessarily feel this limitation.
That said, if you are looking for a unique lap pool that serves dual purposes, fiberglass may not be for you. Many people choose an "L" shaped lap pool, with one long stretch for exercise and another area for other activities. This and other nonstandard shapes may not be available for a fiberglass shell.
Then again, it never hurts to look around. The number of fiberglass swimming pool options is increasing by the year. Not long ago, fiberglass lap pools were very rare. Now, with the growing popularity of both exercise pools and fiberglass inserts, a fiberglass lap pool doesn't seem like such an odd duck anymore.