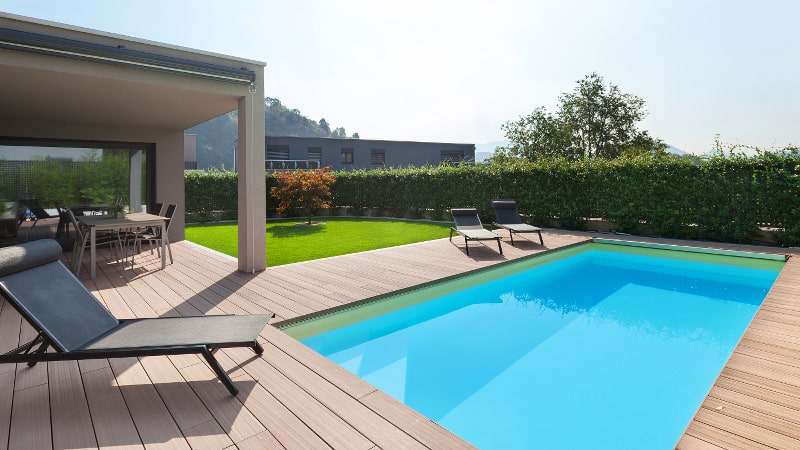 When you think of an inground swimming pool, what image comes to mind? For most people, it's the prototypical rectangular or kidney shaped pool lined with concrete. But the truth is, the number of viable inground swimming pool designs is effectively infinite, and homeowners are increasingly choosing nonstandard layouts to save space or enhance the beauty of their backyard.
In case you're looking for inspiration, here are three inground pool designs that are hot at the moment. Of course, your own pool doesn't have to fit into any of these categories. One of the great things about inground pools is that you can build them in whatever size and shape you like. All you need is space, money, and an expert pool builder.
1. The Natural Pool
If the man-made look of most backyard pools is a turnoff, a natural pool design may be for you. Natural pools often feature freeform shapes intended to mimic natural bodies of water, and blend into the environment via landscaping elements like plants, stones, and waterfalls. Some of these pools are designed to look like swimming holes, while others replicate the beach experience with a gradually sloping beach entry (sometimes complete with sand). A pool with a natural design can be a peaceful and quaint oasis right in your backyard.
2. The Plunge Pool
Plunge pools are rectangular swimming pools that are small but deep. By skipping the shallow end, these pools get down to business and maximize whatever space you have available – a real boon for people with small yards. Plunge pool designs often come with additional spa-like features such as water jets and ledges to sit on. You can even heat up the water and use one of these pools like a hot tub. But mostly, it's about the joy of jumping into the water – while avoiding the huge space investment required by a traditional swimming pool.
3. The Exercise Pool
If fitness is your main concern, there are a couple of different inground swimming pool designs that could fit the bill. One is a lap pool, a narrow but long swimming pool that's like having a single swimming lane in your backyard. Alternatively, there's the swim spa, a very small pool that includes water jets that allow you to swim in place. If the lap pool is equivalent to the track, the swim spa is the treadmill.
The cool thing is that these different designs aren't mutually exclusive. A pool with a natural design can also be small and deep like a plunge pool. A plunge pool can be outfitted with water jets for exercise. A custom designed pool can even include different sections for different activities. In other words, to arrive at the best swimming pool for your home, you can bring whatever elements you like together for a design that's completely unique – and completely you.