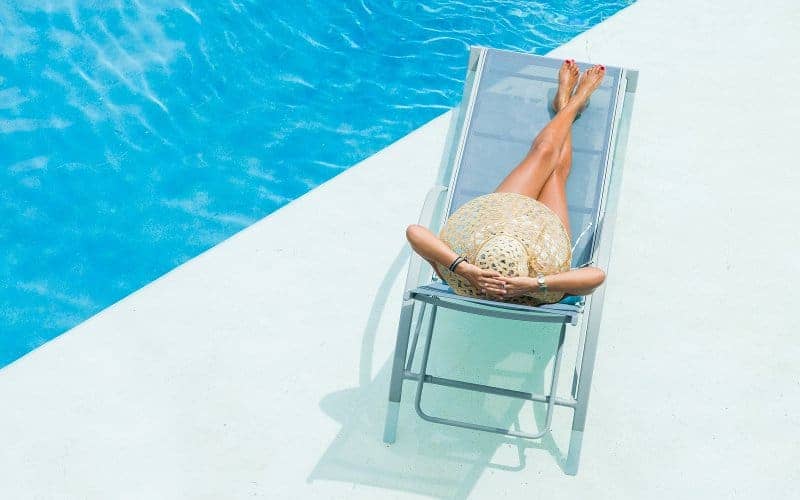 What's your idea of a luxury pool? Opinions vary, but most people point to things like vanishing edges, attached spas, and rock waterfalls. You know, all those features the average pool owner could never afford.
However, luxury isn't about what's on the price tag. It's about quality, comfort, and perhaps most of all, style. Granted, those things often come at a higher cost, but not always. To illustrate, here are five examples of pool features that only look expensive.
1. Floating Decorations
With a swimming pool, the water is always the main focal point, so floating decorations make an out-sized impression and generally offer good value for your dollar. Floating candles, lanterns, flowers, and the like create a spa-like atmosphere in your backyard. Pool floats can also be decorative, while offering a posh place to relax. Your money goes a long way with items like these, so you can easily afford to replace them when you want to change things up.
2. Built-in Umbrellas
Umbrellas are aesthetically pleasing and make the pool area more comfortable by providing shade. To maintain a clean look and avoid dealing with anchors, you can have one or more umbrella sleeves added to your pool deck at a relatively minor cost. Better yet, you can have them added to a large step or sun shelf in the pool itself. Nothing spells "luxury" like dipping your toes in cool water while relaxing in the shade.
3. Fountains
Make no mistake – pool fountains can be pricey, particularly when incorporated into the pool's structure. However, pool fountains that float or attach to the pool deck are often inexpensive, while still delivering the attention-grabbing effect of water in motion. Running a fountain in the evening can also help cool a pool over the hot summer months, so they offer a practical benefit for your money as well.
4. Artificial Rock
Whether we're talking about diving rocks, waterfalls, or full-on tropical grottos, there's no doubt that rocks are a big part of modern pool design. Unfortunately, natural rocks can be expensive to buy, transport, and install. You can get a similar – and in some cases, better – look with artificial or faux rocks. Artificial rock offers a few advantages over natural rock, but its lower cost is the main selling point.
5. Decorative Plants
If you can afford to hire a professional landscaper to do your pool area, you'll likely find that it's money well spent. Otherwise, invest some time in picking out the perfect plants to create a lush getaway spot. You'll notice that many stylish pool designs incorporate a few thoughtfully placed potted plants – something that's easy for a do-it-yourselfer to emulate.
For a resort-like "staycation" effect, consider plants that evoke thoughts of faraway tropical destinations. Start small (and inexpensive) and build your backyard paradise one plant at a time.
These are just a few examples of luxury features that are well within reach of the average pool owner. To find more ideas, look at pictures of high-end pools and focus on the little touches that top off a luxury pool design. These details can really up the style quotient of your pool without blowing up your budget.