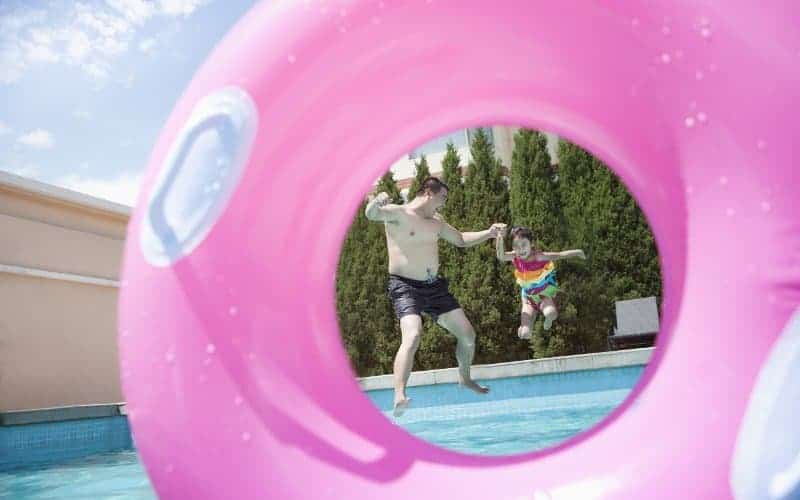 Relaxing on a pool float is a fantastic way to waste a summer afternoon. Of course, not all floaties are created equal. The majority are cheaply made, uninspired hunks of leaky plastic that may or may not perform their basic function of keeping you afloat.
Fortunately, there are better options. In fact, compared to the humdrum alternatives, the best pool floats are bonafide works of art. So step away from that ugly inner tube and check out these amazingly cool pool floats that seriously raise the bar on comfort, beauty, and fun.
1. Sunflower
We picked this sunflower pool float because it's cute and summery. The fact that it's also comfortable and roomy enough for two people are a couple of huge bonuses.
2. Pizza Slice
Warning: Reading this list may make you hungry. That's because many of the best floaties are designed to look like tasty food. This floating pizza slice is one delectable example.
3. Recliner
No gimmicks here – this reclining pool float is all about luxurious comfort. You can raise or lower it without leaving the water. Oh, and not to be forgotten, there are spots for two drinks and additional compartments for other stuff you want to keep dry.
4. Lobster
Most of the floats on this list are aimed at adults, but this one is strictly for the kiddos. That said, even the grownups should appreciate seeing this oversized crustacean patrolling the pool.
5. Baseball Glove
This float is a real "catch" for baseball fans (har). It's obviously perfect for a baseball-themed pool party, especially when combined with a giant inflatable baseball.
6. Donut with Sprinkles
When it comes to food-inspired pool floats, donuts are an obvious choice. While there are a few different donut-style floaties to choose from, we like this one because a) sprinkles, and b) the bite taken out of the side. Getting hungry yet?
7. Rubber Duckie
Turn your swimming pool into a giant bathtub with this humongous inflatable rubber duckie. It's got a drink holder and straps to secure a paddle (the paddle is not included, however).
8. Water Hammock
Most floats are designed to keep you completely above water, but on a hot day, this is where you want to be. This hammock is designed to keep your body under the cool, refreshing water so you can relax in comfort even on sweltering days.
9. Giant Gummy Bear
While it's understandable why you might be tempted to bite into this realistic gummy bear pool float, doing so will probably cause leaks. But seriously, how awesome is this?
10. Toilet Bowl
If you like toilet humor – literal toilet humor – then this is the pool float for you. It also makes a great gag gift for any pool owner. Best of all, it's perfectly functional, with the toilet "tank" serving as a comfortable back rest.
11. Float with Canopy
This stylish inflatable is equally useful on land and in the water. Wherever it is used, the canopy offers some much-needed refuge from the sun.
12. Flamingo
There are a few flamingo pool floats to choose from, but few of them even approach the size of this big bird. At over six feet long, it's large enough to hold two adults. It features two cup holders and a comfy headrest for maximum relaxation.
13. Flip Flop
This massive inflatable flip flop just might win the prize for cutest pool float ever. It's an instant conversation-starter and a playful addition to any pool area.
14. Dots Candy
Here's another fun float for candy lovers. Taller people might have a hard time fitting on this float, but it makes a sweet ride for the kids.
15. Two-Person Lounger
Feeling romantic? This beautiful float is big enough to hold two people – but not big enough for them to avoid cuddling. Of course, floating solo and using all that space for yourself is another perfectly good option.
16. Pretzel
Add another food-inspired pool float to the list. This one has room for several kids to float along in salty splendor.
17. Poop Emoji
Normally you wouldn't want to see something like this floating in your pool. But this poop emoji pool float is so funny, you probably won't mind.
Looking for a more straightforward and functional pool float for adults? Check out our picks for the three best. Alternatively, if you want to see more fun floats for kids, here's a list that will take your breath away.