In the dark about choosing the best lighting for your inground swimming pool? You're not alone. As with virtually every other aspect of pool design, the number of pool lighting options has jumped in recent years – thanks in large part to new technologies and consumer demand for more "resort-style" features.
For the average pool owner, traditional incandescent lighting is still a solid choice due to the comparatively low cost of installation. But for those who want to add some bling to their pool area, LED lighting has become the trendy choice. As always, it all depends on your goals, the environment you're working with, and (say it with me) how much money you have to spend.
To get you started, here's an illuminating assortment of pool lighting facts, tips, and ideas to consider:
1. LED lights are hot
No, we don't mean that they run hot. They're hot as in "popular." While more expensive than incandescent lights, LED lights are one of the more affordable ways to add some serious style to your swimming pool – whether it's new or an older pool in need of a fresh look. You can get LED lights in your favorite color, or even swap colors at will. Besides their fabulous looks, there's also a perfectly practical reason to choose LED lights – they're more energy efficient than traditional lighting, saving you a few dollars here and there.
2. Don't forget about the area around the pool
It's natural to focus on underwater lighting first, but in terms of safety and aesthetics, the area around the pool is just as important. With that in mind, consider adding soft lighting around the deck, pathways, and landscaping elements. Beyond turning your backyard into one giant piece of nighttime eye candy, the strategic use of lights makes the area easier to traverse. As a bonus, it also keeps light-seeking bugs from congregating around the water.
3. Factor in the color of your pool tile
The same pool lighting can produce radically different effects depending on the backdrop. The simple rule is that lighter surfaces tend to reflect light, while darker surfaces absorb it. However, things get considerably more complicated when you're talking about the different color options available with LED and fiber optic lighting. To get an accurate picture, look for examples of pool lighting options already installed on pools with the same or similar tile.
4. Go for more diffusion
As a rule, soft lighting coming from lots of sources is more attractive than harsh lighting coming from fewer sources. Even if you're going for standard incandescent lighting, consider installing at least two lights in the water for a cleaner, smoother look. Outside of the pool, use soft lighting spaced out around the pool area.
5. Incandescent lights are the most affordable option – at least initially
As with many pool design decisions, your choice of lighting involves a tradeoff between present and future costs. Good old incandescent lighting offers the cheapest installation price, but uses more electricity than other, more energy efficient options. Traditional lighting installed in waterproof fixtures can also be a beast to replace. That's not to say the alternatives are more economical in every case. It just means that you should consider what the lighting will cost you both now and in the long run.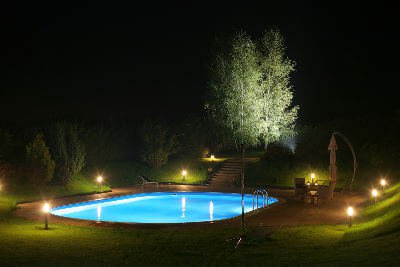 6. Fiber optic lighting offers many of the same advantages as LED
If the colorful possibilities of LED lights appeal to you, you may also want to add fiber optic to your shortlist of pool lighting options. Fiber optic lights can also change colors based on the occasion and produce spellbinding light shows. While even more expensive than LED lights, they're also easier and cheaper to maintain.
7. Why not sprinkle in some solar lighting?
Solar lights make a nice addition to almost any backyard, but they really shine when incorporated into a pool area. You can use them to illuminate walkways, add decorative flourishes, or even light up the surface of your pool. Solar lights vary in performance, and may not be bright or reliable enough to eliminate the need for electrical lighting around your pool. However, they're ideal for filling in the gaps and adding the finishing touches to your nighttime poolscape.