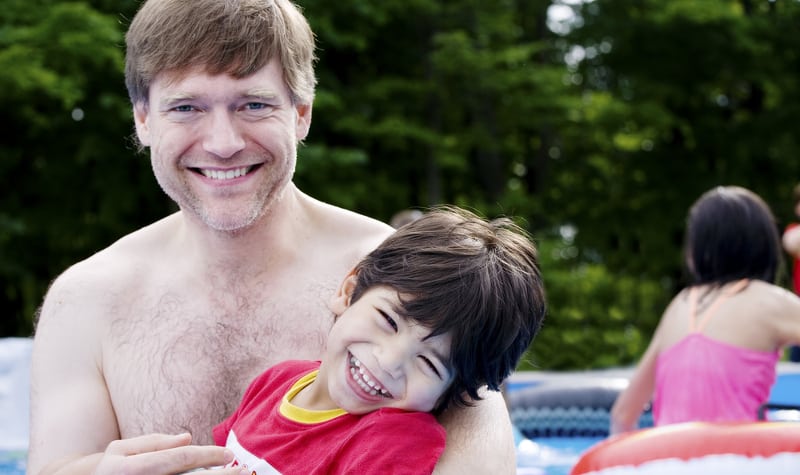 Everyone loves swimming pools, but not everyone can use them safely and easily – at least, not without a little help. That thought has probably occurred to any parent of young children who has pondered building a pool in light of the awful drowning statistics that come out each year. It's also a reality for many adults with mobility issues, who often have trouble getting in and out of a pool using standard equipment.
Fortunately, there are lots of ways to make a backyard pool safer and more accessible for people of varying ages and abilities. You can start by choosing the right style and dimensions. From there, consider extra features that make things easier for all the people who will be using your pool.
Here are some ideas on tailoring your pool to meet your family's needs. Note that most of the suggestions mentioned here aren't required by law unless you're building a public pool. In that case, you should familiarize yourself with the requirements of your local building codes and the Americans with Disabilities Act.
Children
There are plenty of pool features that can help you protect your children from harm, but none of them can take the place of good old-fashioned parental supervision. Therefore, when you're still in the planning stages, consider installing your pool close to the house where you can keep an eye on things. If possible, try not to obscure your view of the water with fencing, trees, or landscaping.
You might also want to consider a shallower pool that allows kids to touch bottom in most or all points. That may mean forgoing that diving board, which requires a deep end. Of course, a diving board itself can be a hazard for reckless youngsters.
Finally, your local laws likely require you to enclose your pool with a fence that meets certain minimum requirements. You may also want to install alarms on any gates or doors that provide access to the pool. There are even systems that detect disturbances in the water.
Older People
The main issue for many older people is mobility. Thus the perfect swimming pool for the elderly would include some form of walk-in access, be it steps, a ramp, or beach entry (aka zero depth entry). Handrails are also "handy" for getting around both in and out of the water.
To keep things comfortable for older swimmers, plan on additional pool heating. Cooler water temperatures that most people find bracing can be unpleasantly bone-chilling to the elderly. An attached spa, in addition to being therapeutic in its own right, can help older folks warm up after a swim.
Finally, older people may have a variety of medical conditions to take into account. Whether it's part of your pool design or not, you should have some sort of medical alert system in place to make sure help can arrive quickly if a problem arises.
People with Disabilities
Many disabled people are familiar with the benefits of aquatic therapy. You can enjoy these same benefits at home by installing a swim spa or some other type of therapeutic pool. This is often cheaper than installing an inground swimming pool, with many more options for placement (including indoors).
That said, traditional swimming pools offer something those speciality pools can't – a chance to socialize with others. Many people with disabilities simply want to splash, play, compete, and horse around in the water like everyone else. And with the right equipment, they can.
Because the needs of the disabled are diverse, it's impossible to generalize about what equipment works best. Here's a quick sample of what's available:
Walk-in entry
Handrails
Ramps
Aquatic chairs
Chair lifts
While you're planning your design, don't forget the area around the pool, which may need customizations such as handrails, slip-resistant decking, and wheelchair accessibility.
Fun For ALL
Outfitting your pool for people of diverse needs can be costly. On the other hand, many of the suggestions above merely require a little forethought. Swimming pools are a great place for people to gather, so why not make sure everyone who gathers at your pool can enjoy it equally?